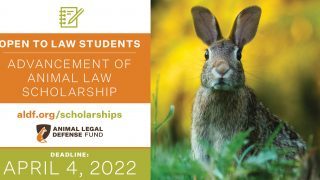 Advancement of Animal Law Scholarships
Applications have closed.
The 2023 Advancement of Animal Law Scholarships applications are no longer being accepted. Please check back in early 2024 for more details.
Animal Legal Defense Fund Advancement of Animal Law Scholarships are available to law student members and are awarded based upon demonstrated commitment to the organization's mission, "to protect the lives and advance the interests of animals through the legal system." Applicants should be committed to the advancement of animal law through active involvement with their student chapter while in law school and anticipated participation in the field after graduation. Preference is given to members of our Animal Legal Defense Fund Student Chapters.
A secondary goal of the scholarship is to ensure the recipient's chapter will remain active and maintain engaged leadership. Therefore, scholarship recipients are encouraged to act as a student chapter advisor to their chapter for up to two years after graduation; this mentorship will help ensure continuity of the chapter and contribute to its ongoing vitality.
Scholarships are for one year only. However, students are eligible to apply for continued funding. Scholarships are not available to students graduating this semester, but 3Ls in a 4-year program are welcome to apply. Scholarship amounts are: $5,000 each for three first place recipients, and $2,500 each to the second-place recipients. (Note: the number of second place recipients is indeterminate and may vary from year to year.)
How to Apply
Qualifications and Requirements:
Applicant must demonstrate outstanding commitment to animal law.
Applicant should be interested in serving as a student chapter advisor for up to two years after graduation.
Only current 1Ls and 2Ls are eligible to apply (or 3Ls in a four-year program), with the scholarship to be applied during the next academic year.
Applicants must submit:
A completed application form, including:

Answers to provided questions
Two references (references from Animal Legal Defense Fund staff are not permitted)

Most recent unofficial academic transcript
A copy of your resume
As one PDF document, please email your application packet to Priscilla Rader Culp at prader@aldf.org with the subject line "Advancement of Animal Law Scholarship 2023."
Related
The Animal Legal Defense Fund has helped defend California's right to enact the strongest farmed animal protection law in the country

Proposed rule would maintain an unnecessarily complicated and confusing process for children to get access to plant-based milk

Cows were killed in Madison, Brazos, and Robertson Counties, Texas.