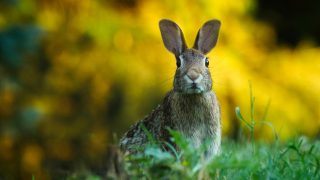 Advancement of Animal Law Scholarships
Animal Legal Defense Fund
The 2020 Advancement of Animal Law Scholarship application period has ended. Please check back next spring for details.
Animal Legal Defense Fund Advancement of Animal Law Scholarships are available to law student members of our Animal Legal Defense Fund Student Chapters and are awarded based upon demonstrated commitment to Animal Legal Defense Fund's mission, "to protect the lives and advance the interests of animals through the legal system." Applicants should be committed to the advancement of animal law through active involvement with their student chapter while in law school and anticipated participation in the field after graduation.
A secondary goal of the scholarship is to ensure the recipient's chapter will remain active and maintain engaged leadership. Therefore, scholarship recipients are encouraged to act as a student chapter advisor to their chapter for up to two years after graduation; this mentorship will help ensure continuity of the chapter and contribute to its ongoing vitality.
Scholarships are for one year only. However, students are eligible to apply for continued funding. Scholarships are not available to students graduating this semester, but 3Ls in a 4-year program are welcome to apply. Scholarship amounts are: $5,000 each for three first place recipients, and $1,000 each to the second place recipients. (Note: the number of second place recipients is indeterminate and may vary from year to year.)
How to Apply:
Qualifications and Requirements:
Applicant must be a member of an active student chapter.
Applicant must demonstrate outstanding commitment to animal law.
Applicant should be interested in serving as an student chapter advisor for up to two years after graduation.
Only current 1Ls and 2Ls are eligible to apply (or 3Ls in a four-year program), with the scholarship to be applied during the next academic year.
Applications must be emailed to Priscilla Rader at prader@aldf.org by May 4, 2020 with the subject line "Advancement of Animal Law Scholarship Submission".
Applicants must submit: 
Two letters of recommendation, at least one from a law school professor (letters of recommendation from the Animal Legal Defense Fund staff are not permitted).
Current academic transcript (unofficial is okay).
A copy of your most recent resume.
Provide complete answers to the following questions in a maximum of 6 pages. Answers must be typed and double spaced. Include your name, student chapter, year in school, address, phone number, and email address.

Describe your interest in animal issues and tell us how your law school education will help you to be a better advocate for animals.
Describe your role within your student chapter.
Describe any other animal law (or animal protection) activities and experience (academic, volunteer, activism, employment, etc.) to date.
The Animal Legal Defense Fund's mission is to advance the lives and protect the interest of animals through the legal system. Describe how you see yourself contributing to this mission, and tell us how you will support the field of animal law after graduation.
How will receiving this scholarship help you to achieve your goals?
Recipients of the Animal Legal Defense Fund Advancement of Animal Law Scholarship are encouraged to serve as a student chapter advisor for two years after graduation. How do you envision yourself in this role and how would you contribute to your chapter's ongoing vitality once you graduate?
Related
In the wake of the COVID-19 pandemic and mounting criticism of the dog meat trade from Chinese citizens, the national government of China has issued draft guidelines to reclassify dogs from "livestock" to "companion animals."

In the U.S., some municipalities are grappling with whether pigs kept as companions should be allowed in residential areas that exclude animals legally defined as "livestock."

'Tiger King' could have been a change agent. Despite the impetus of the 5-year project — finding a big cat in someone's white van in the heat of summer — a deliberate choice was made not to focus on the tigers at all. Their story remains untold.