2020 Advancement of Animal Law Scholarship Recipients
The Animal Legal Defense Fund Advancement of Animal Law Scholarships are awarded to law student members of our student chapters based upon demonstrated commitment to the Animal Legal Defense Fund's mission, "to advance the interests and protect the lives of animals through the legal system." Recipients are actively involved with their Animal Legal Defense Fund Student Chapter while in law school and show promise in the field after graduation.
Abbey Barr – University of Massachusetts School of Law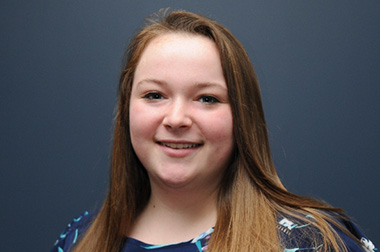 Abbey is entering her third year of law school at the University of Massachusetts School of Law where she will serve another term as President for the Student Animal Legal Defense Fund Chapter. She is also a member of the Criminal Law Society and the Larkin Senate of the Delta Theta Phi International Law Fraternity. Additionally, Abbey works at the circulation desk of the law library helping fellow students and members of the public to find the resources they need.
Over the past year, Abbey has kept her chapter very active in the student body. During October's Justice for Farmed Animals Week, she organized a student trip to a farmed animal sanctuary to learn first-hand about the harsh reality of cruelty experienced by farmed animals. Furthermore, during the Justice for Animals Week in February, she organized a Panel of animal rights attorneys to educate students on how they can be an advocate for animals. She has also organized tabling in the law school lobby for Ag-Gag Laws. In addition, Abbey has arranged for therapy dogs to visit the law school during Wellness Week right before final exams.
In her past, Abbey has been dedicated to both working with and helping animals. Throughout her undergraduate experience at Keene State College, Abbey volunteered at the Monadnock Humane Society as a dog handler. She also organized several fundraisers to offset the cost of food and supplies for the animals at the humane society. Before college, Abbey was the barn manager and head volunteer for the Little Britches Therapeutic Riding Program in Woodbury, CT.
Abbey is passionate about protecting animals and spreading awareness about animal rights. She plans on mentoring the chapter for years to come and hopes the chapter continues spreading awareness through campus events and student trips.
Mary-Bailey Frank – Duke University School of Law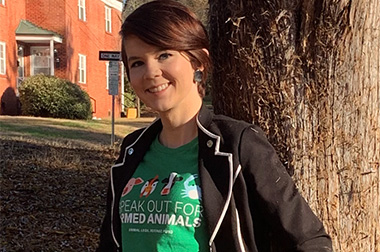 Mary-Bailey (Bailey) Frank is a rising 2L at Duke University School of Law. Bailey became interested in animal rights during her undergraduate years at Georgetown University, where she helped lead the student group Animalia: Animal Rights at Georgetown and interned with the Humane Society Legislative Fund. After graduating college, she spent two years teaching in Mississippi through the Teach for America program, but she ultimately came to realize her heart belonged to the animal rights movement. She enrolled in Duke University School of Law to pursue a career as an animal rights attorney, and she currently serves as the incoming president of Duke's Animal Legal Defense Fund Student Chapter. Over the summer, Bailey is honored to be working as a legal intern for Animal Outlook (formerly Compassion over Killing).
During her 1L year, Bailey served as the 1L representative for Duke's Animal Legal Defense Fund Student chapter. In her role as representative, she established a new pro-bono project and led a team of students that worked with Harvard's Animal Law Clinic.
In the upcoming year, Bailey plans to launch a seminar course focused on big cat possession, inspired by the Netflix docuseries "Tiger King." She is working with the Animal Legal Defense Fund and Duke professors to develop a syllabus, and she is hoping to launch the course in Spring 2021. After graduation, Bailey plans to work as an animal rights attorney. She has a particular passion for farmed animals and their legal status and protections in the United States.
Hannah Richerson – University of Wisconsin-Madison Law School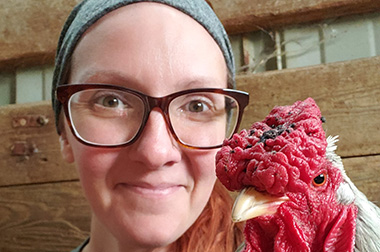 Hannah S. Richerson is a third-year dual degree student at the University of Wisconsin-Madison/Law School pursuing a PhD in Environment and Resources with a doctoral minor in Molecular and Environmental Toxicology, and a JD with emphases in Animal and Environmental Law.
As a graduate student, Hannah conducts research on the social and environmental implications of correctional institution siting, teaches undergraduate and graduate science courses, mentors students in the Nelson Institute for Environmental Studies Mentorship Program, and is a WISCIENCE Scientific Teaching Fellow. While in law school, she has served as the president of the Animal Legal Defense Fund-University of Wisconsin Law School student chapter since reviving it in 2017 and held multiple board positions with the Environmental Law Society. She has also dedicated hundreds of pro bono hours to the Center for Patient Partnerships legal-medical clinic, among other programs, and clerked and interned for numerous animal and environmental law organizations including the Animal Legal Defense Fund, Animal Legal and Historical Center, Sheltering Animals of Abuse Victims, Clean Wisconsin, and Midwest Environmental Advocates.
Hannah's long-term goal upon graduation is to serve as an educator, in one capacity or another. She hopes to secure a position that allows her the opportunity to advocate for, and facilitate knowledge of, human and non-human animal justice in a variety of ways. Additionally, she shares her home with many rescued and adopted animals and plans to continue to expand her personal capacity to care for others in need.
Mary K. Walsh – Cleveland-Marshall College of Law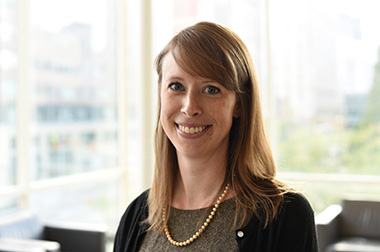 Mary Walsh is entering her fourth year of law school in the part-time evening program at Cleveland-Marshall College of Law. She has served as president of the C-M Law Student Animal Legal Defense Fund chapter since she reactivated it in 2018. In the past two years, C-M SALDF has obtained an ALDF seed grant and successfully petitioned the law school administration to offer an animal law course beginning in the fall of 2020. The chapter was also awarded five-hundred dollars from the Student Bar Association to partner with a volunteer organization – Pet Partners – to bring therapy animals to campus during exam reading week. The chapter worked with the law school's administration to draft a policy to allow the animals on campus and also worked with the library staff to create an indoor space for the animals to visit. The C-M SALDF partnered with Cleveland-Marshall's Environmental Law Society to host a Skype event with Nick Fromherz, Senior Attorney at Sea Shepherd Legal and Visiting Assistant Professor at Lewis & Clark Law School, and two of his colleagues. Additionally, one of the C-M SALDF officers was awarded a travel grant to attend the Animal Legal Defense Fund's Student Convention in the fall of 2019.
Mary has also just completed her tenure as a Chief Managing Editor of Cleveland State Law Review. Her law review Note, "Feeding Fido: The Case for Restitution in Ohio Animal-Cruelty Convictions," will be published this summer in the Animal Law Review and was chosen for presentation at the Law Student Scholarship Panel of the Animal Legal Defense Fund's Student Convention in Portland, Oregon in October 2019.
Prior to and during law school, Mary has managed the regulatory component of the Phase 1 cancer clinical trials at University Hospitals Cleveland Medical Center. With her background in clinical research, she is looking forward to attending the Center for Animal Law Studies' Law & Ethics of Animal Testing course this summer at Lewis & Clark, on a William C. Borst Anti-Vivisection Visiting and Auditing Student Scholarship.
While in law school, Mary has helped draft legislation removing the loophole in Ohio law that gives immunity to criminals who harm pets during the commission of a crime. The Animal Law Committee of the Ohio State Bar Association is currently reviewing the legislation. As an extern at the Cleveland Metroparks, Mary wrote two amicus briefs to support the states' Attorneys General in their lawsuit against the Trump Administration for rolling back the protections of the Endangered Species Act. This summer, Mary is clerking in the ALDF Criminal Justice Program under the guidance of David Rosengard, Senior Staff Attorney.
Mary is interested in careers in both the legislative and litigative fields of animal law after graduation. Regardless of her career path, though, she is looking forward to becoming a student chapter mentor for the ALDF and continuing to spoil her dog, Finn, with too many walks and belly rubs.
Honorable Mentions
Andrei Irimia, University of Florida Levin College of Law
Mary Offutt-Reagin, Georgetown University Law Center
Related
Companion, farmed, and wild animals have been lost, injured, or killed during fireworks displays

The California Court of Appeals affirmed a ruling by a lower court recognizing Society for the Prevention of Animal Cruelty (SPCA) organizations' ability to file lawsuits against entities that violate existing animal protection laws.

Reward for information leading to the arrest and conviction of the person or people responsible for illegally shooting and killing a red wolf in Tyrrell County, North Carolina.