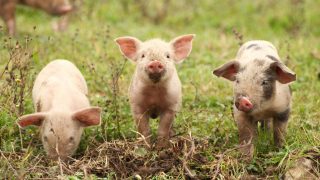 Spotlight: Hannah Richerson
Hannah Richerson is a 2020 recipient of the Animal Legal Defense Fund's Advancement in Animal Law Scholarship.
Hannah Richerson is a 2020 recipient of the Animal Legal Defense Fund's Advancement in Animal Law Scholarship. This award honors students who demonstrate a commitment to the Animal Legal Defense Fund's mission: "to advance the interests and protect the lives of animals through the legal system." Recipients are actively involved in their Animal Legal Defense Fund Student Chapter while in law school and show promise in the field after graduation.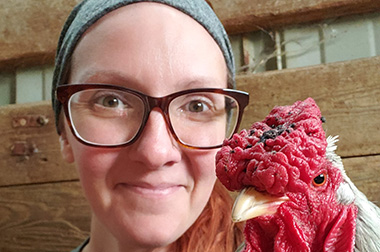 Hannah S. Richerson is a third-year dual degree student at the University of Wisconsin-Madison/Law School pursuing a PhD in Environment and Resources with a doctoral minor in Molecular and Environmental Toxicology, and a JD with emphases in Animal and Environmental Law.
As a graduate student, Hannah conducts research on the social and environmental implications of correctional institution siting, teaches undergraduate and graduate science courses, mentors students in the Nelson Institute for Environmental Studies Mentorship Program, and is a WISCIENCE Scientific Teaching Fellow. While in law school, she has served as the president of the Animal Legal Defense Fund-University of Wisconsin Law School student chapter since reviving it in 2017 and held multiple board positions with the Environmental Law Society. She has also dedicated hundreds of pro bono hours to the Center for Patient Partnerships legal-medical clinic, among other programs, and clerked and interned for numerous animal and environmental law organizations including the Animal Legal Defense Fund, Animal Legal and Historical Center, Sheltering Animals of Abuse Victims, Clean Wisconsin, and Midwest Environmental Advocates.
What Animal Legal Defense Fund student chapter activities are you proudest of and why?
I'm most proud of our student chapter's work developing an event we call 'Bark on Bascom' and our collaborations with the local non-profit, Sheltering Animals of Abuse Victims (SAAV).
Bark on Bascom, named after the symbolic campus hill where our law school is situated, is an annual event designed to support an adopt-don't-shop initiative, raise funds for local animal shelters, and educate the public on related legal matters. Each year we invite a rescue organization and their adoptable dogs on campus to meet students and the surrounding community. In doing so, we're able to bring attention to animals in need of loving homes, raise money through donations and merchandise sales, and initiate valuable conversations with the public around laws and policies such as breed restrictions, animals used in biomedical research, and companion animal abuse.
Our student chapter also volunteers with Dane County, Wisconsin-based SAAV, a non-profit organization that works to end the cycle of abuse by providing safe refuge for their animals when a victim leaves an abuser. One of our most far-reaching events was a conference we helped plan and host that brought together attendees from all different disciplines and fields—veterinarians, attorneys, social workers, academics, law enforcement, and more—to discuss the link between family violence and animal cruelty. There, we were able to start a dialogue around using a community-wide approach to break the cycle of abuse for both humans and non-human animals.
Any other noteworthy experience?
Personally, my heart belongs to farmed animals, so I can't go without mentioning the volunteer work our student chapter does with the Wisconsin rescue, Heartland Farm Sanctuary (Heartland). Heartland takes in homeless farmed animals and provides them with a safe, peaceful environment to live out their lives, and works tirelessly to foster respect and kindness toward all animals. Our student chapter regularly hosts 'work days' at Heartland to help make sure the residents have the best living arrangements, enrichment activities, and care available. For educational purposes, we also open this chapter opportunity to all Wisconsin law students, and the level of interest we have from non-members has been steadily growing over the past few years, making it that more noteworthy.
What is an animal law related goal of yours for the upcoming academic year?
One of my biggest goals for the upcoming year is to aid in an ongoing legal challenge against a local municipality that hosts an annual 'Chicken Toss' and 'Greased Pig' contest, with the objective to permanently dismantle the events. I recently welcomed in four of the abused roosters from the 2020 event, and I aim to work to make sure there aren't any more in need of rescue in 2021. In addition, I'm currently collaborating with a fellow graduate student on creating a podcast that provides a platform for scholars to share how they are contributing to advocacy efforts on behalf of their non-human animal counterparts, and we hope to launch in the near future.
What are your plans/goals for post-graduation?
Professionally, I see myself as an educator is some capacity, which is one of the reasons I'm pursuing a PhD alongside a JD. My graduate research is multidisciplinary and encompasses components of environmental justice, toxicology, and non-human animal rights, and, ideally, I'll find employment that allows me to advocate for, and facilitate knowledge of, human and non-human animal justice in many ways. Additionally, I share my home with rescued and adopted animals including five dogs, four cats, four goats, four roosters, three cows, two snakes, two tortoises, one rat, and one pig, and I plan to expand my personal capacity to care for others in need post-graduation.
What is one piece of advice that you'd like to pass on to other Animal Legal Defense Fund student chapter leaders?
I encourage other student chapter leaders to keep record of their contacts, member roles, and chapter activities. Essentially, imagine none of your current board or chapter members remain after you graduate, and leave an adequate framework for subsequent students. This can easily be done in a variety of ways: create a shared Google Doc, Box note, or the equivalent and update it regularly; maintain an active social media account—whether public or private—to serve as a log; establish a contact group or distribution list in Outlook or a similar platform to save and organize information; invest in a project management software that stores chapter tasks, files, and collaborations; and so on. Your chapter will be much more extensive and effective from building these resources.
Learn more about the other 2020 Advancement in Animal Law Scholarship winners.
Recent News
Reward for information leading to the arrest and conviction of the person or people responsible for illegally shooting and killing a red wolf in Tyrrell County, North Carolina.

Animal Legal Defense Fund files motion for summary judgement with damning evidence against the university

Join Legislative Affairs Manager Jennifer Hauge for an update on our 2022 legislative work thus far, as well as ways you can directly impact the legislative process.
Help animals win the legal protections they so desperately need and deserve, and ensure they have an advocate in courtrooms and legislatures across the country.
Take Action Now