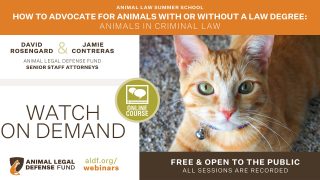 How to Advocate for Animals With or Without a Law Degree: Animals in Criminal Law
Presented 8/6/20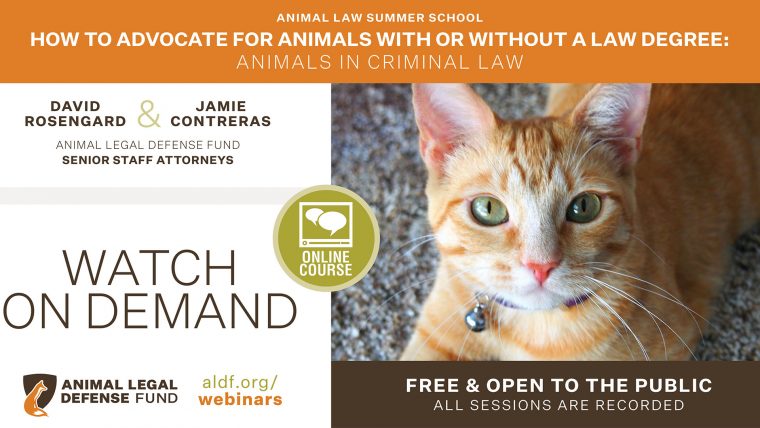 Although animals are property under the law, they are property unlike any other. In the context of criminal law, animals can be the victims of crime entitled to certain statutory protections. At the same time, they are also living evidence. And, when an animal's owner is the defendant, the defendant may still have a property interest in the animal. In this webinar, Senior Staff Attorneys David Rosengard and Jamie Contreras will discuss animals' status in the context of criminal law and how lawyers and nonlawyers alike can effectively advocate for animals who suffer cruelty.
This webinar was prerecorded. Watch it now!
Resources
Support the Animal Legal Defense Fund's legal efforts to establish comprehensive legal protections and basic rights for all animals in our society.
Sign Now
Related
Animal Legal Defense Fund challenges the renewed license for the owner of Wildlife on Wheels after evidence has revealed ongoing violations for more than a decade

A Courtroom Animal Advocate Program (CAAP) bill, S.2868/A.4533, which would allow law students and volunteer lawyers to advocate for animal victims in cruelty criminal cases, unanimously passed the New Jersey Senate. The bill is sponsored by Senator Nicholas Scutari and Assemblyman Raj Mukherji and endorsed by the Animal Legal Defense Fund.

Breeding operation, Adorable Stars, sells parasite-ridden kittens suffering from severe and fatal ailments
Help animals win the legal protections they so desperately need and deserve, and ensure they have an advocate in courtrooms and legislatures across the country.
Take Action Now