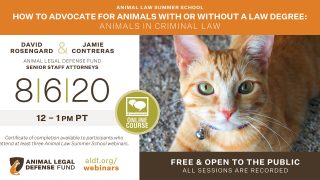 How to Advocate for Animals With or Without a Law Degree: Animals in Criminal Law
8/6/20 12-1pm PT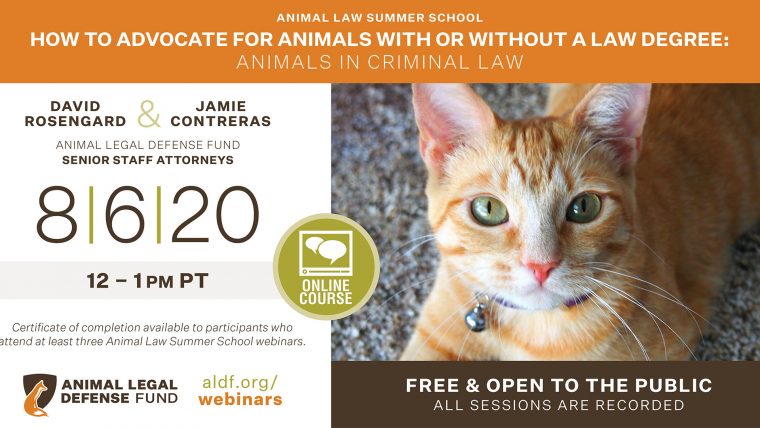 Although animals are property under the law, they are property unlike any other. In the context of criminal law, animals can be the victims of crime entitled to certain statutory protections. At the same time, they are also living evidence. And, when an animal's owner is the defendant, the defendant may still have a property interest in the animal. In this webinar, Senior Staff Attorneys David Rosengard and Jamie Contreras will discuss animals' status in the context of criminal law and how lawyers and nonlawyers alike can effectively advocate for animals who suffer cruelty.
Support the Animal Legal Defense Fund's legal efforts to establish comprehensive legal protections and basic rights for all animals in our society.
Sign Now
Related
The Animal Legal Defense Fund announced that a settlement agreement has been reached with the Animal Kingdom pet store in a high-profile lawsuit over a puppy laundering scheme to unlawfully circumvent the California "retail pet sale ban" — a law that bans the sale of dogs from commercial breeders, commonly called puppy mills.

This week, the Superior Court of California in Solano County found the owner of California Carolina Dogs, a puppy mill located in Vallejo, liable for violating the Polanco-Lockyer Pet Breeder Warranty Act following a lawsuit filed by the Animal Legal Defense Fund on behalf of Caru SPCA.

Animals rescued from backyard slaughter operation near Fort Meyers, Florida are now headed to sanctuaries.
Help animals win the legal protections they so desperately need and deserve, and ensure they have an advocate in courtrooms and legislatures across the country.
Take Action Now