Animals Are So Much More Than Property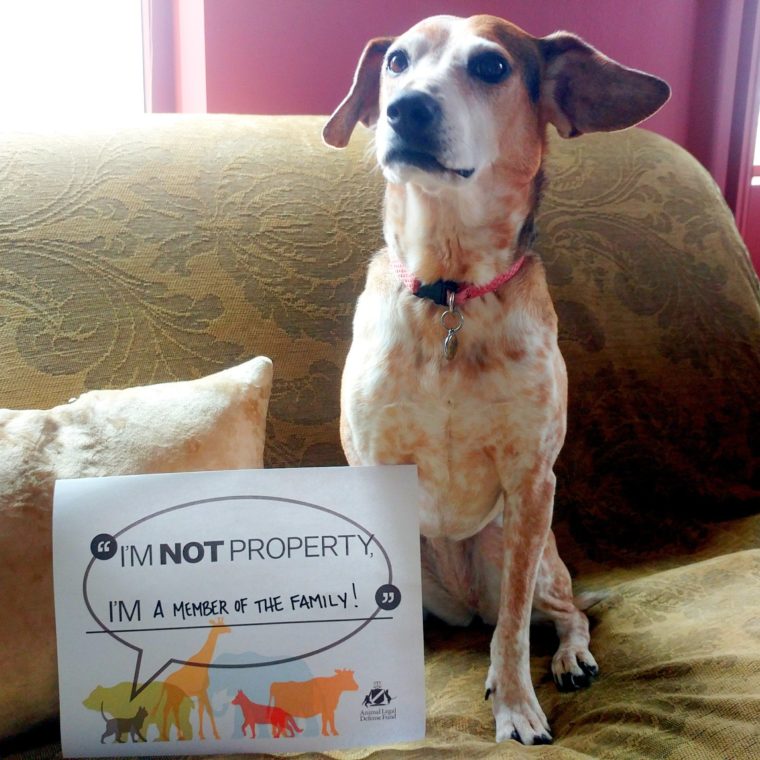 Most Americans consider animals to be members of their family—and even best friends. So why do our laws still classify animals as property?
The Animal Legal Defense Fund is in the courtroom every day, fighting for the legal system to recognize that animals are more than property. But we need your help.
Most people don't even know animals' legal status—and if you don't know there is a problem, you don't know it needs fixing! So, we are raising awareness through a new social media campaign! Join our "I Am Not Property" campaign by following the steps below.
Simply print out the "I Am Not Property" sign, write in something that describes your animal buddy, take a photo, and post it on social media with the hashtag #NotProperty.
Print the sign in color or black and white.
Don't forget to tag the Animal Legal Defense Fund so we can share your photo with our supporters.
Instagram: @animallegaldefensefund
Facebook: @animallegaldefensefund
Twitter: @aldf
Support the Animal Legal Defense Fund's legal efforts to establish comprehensive legal protections and basic rights for all animals in our society.
Sign Now
Related
The Los Angeles Superior Court has granted a preliminary injunction that halts the Kenneys, unscrupulous internet puppy sellers, from advertising and selling puppies until the lawsuit is decided on the merits.

Animal Legal Defense Fund challenges the renewed license for the owner of Wildlife on Wheels after evidence has revealed ongoing violations for more than a decade

A Courtroom Animal Advocate Program (CAAP) bill, S.2868/A.4533, which would allow law students and volunteer lawyers to advocate for animal victims in cruelty criminal cases, unanimously passed the New Jersey Senate. The bill is sponsored by Senator Nicholas Scutari and Assemblyman Raj Mukherji and endorsed by the Animal Legal Defense Fund.