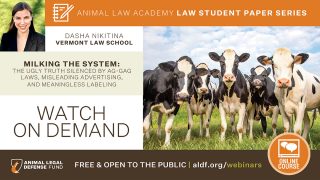 Law Student Paper Series — Milking the System: The Ugly Truth Silenced by Ag-Gag Laws, Misleading Advertising, and Meaningless Labeling
Presented 3/18/21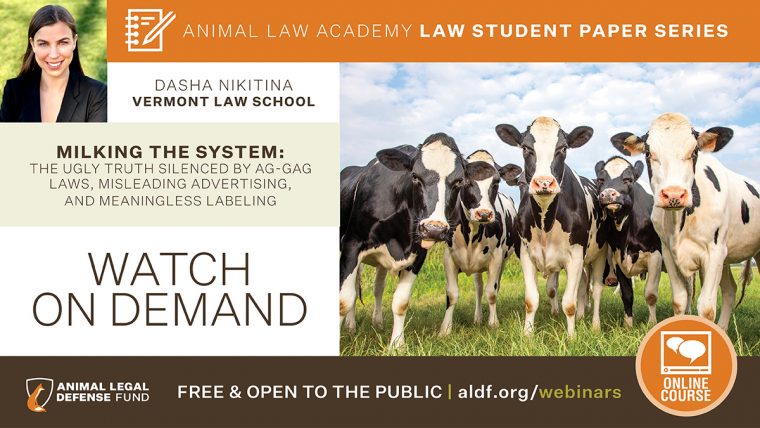 With a growing market of conscious consumers, many industries are trying to meet the demand for ethical and environmentally friendly products. Join Dasha Nikitina, Vermont Law School, as she walks attendees through the laws and challenges surrounding the false labeling of animal products and the solutions that could be employed to protect consumers while improving the well-being of cows in industrial dairies. A brief Q&A to follow.
This webinar has been pre-recorded. Watch it now!
Resources
Related
The United States District Court for the Northern District of California ruled in favor of the Animal Legal Defense Fund and its co-plaintiffs, denying an attempt by the Food and Drug Administration (FDA) to dismiss a lawsuit against the agency.

The Animal Legal Defense Fund released the second in a series of white papers — COVID-19 and Factory Farming —providing policy recommendations to address industrial animal agriculture's role in our heightened risk for zoonotic diseases outbreaks, like COVID-19, and its potential to be the source of the next global pandemic.

Video shows malicious acts of violence toward cows, gross neglect of calves
Join the Animal Legal Defense Fund's email list to stay up to date on lawsuits, legislation, and regulations affecting animals.
Sign Up Now