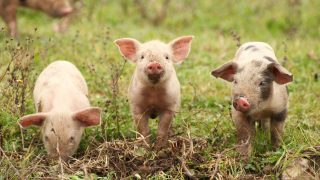 Golden Gate University Speaks Out for Farmed Animals
Golden Gate University School of Law Student Animal Legal Defense Fund (GGU SALDF) celebrated the Animal Legal Defense Fund's Speak Out for Farmed Animals Week last October by participating in and hosting various events throughout the week.
GGU SALDF students started off the week by attending the 2017 Animal Law Conference in Portland, Oregon. The Conference was co-presented by the Animal Legal Defense Fund, the Center for Animal Law Studies at Lewis and Clark Law School, and the Lewis and Clark Student Animal Legal Defense Fund. The weekend events included attendance at the inaugural Animal Legal Defense Fund Student Convention on Friday and attendance at the 25th annual Animal Law Conference on Saturday and Sunday. The chapter met students from various SALDF chapters at the Student Convention, including students from Santa Clara School of Law's SALDF chapter. This led to GGU and Santa Clara SALDF partnering to host the fourth annual California Animal Law Symposium in spring 2018. This year's symposium will focus on how individuals are impacted by animal issues, including the separation of families and companion animals in emergencies, the suffering vulnerable communities endure from factory farm pollution, and the health concerns of consuming animal products.
During Speak Out for Farmed Animals week, GGU SALDF students tabled on campus to raise awareness about the lack of meaningful laws that protect farmed animals from cruel treatment. To connect with students, they engaged those who stopped by the table in a discussion about a field of law that interests them, and then discussed how animal law intersects with that field. All week long, they provided plant-based snacks and recipes, and encouraged students to make small steps toward a compassionate lifestyle.
GGU SALDF also partnered with the GGU Environmental Law Society to screen "Cowspiracy: The Sustainability Secret" during Speak Out for Farmed Animals Week. The partnership with the Environmental Law Society on this event opened the door to more joint events and also to partnering with GGU's Environmental Law Journal and Environmental Law and Justice Clinic. The film screening was a great tool to build the connection between environmental and animal protection issues. This event caught the interest of several new law students who have since been actively involved in the chapter's activities and events.
The chapter's last event for Speak Out for Farmed Animals Week was a visit to Animal Place, a sanctuary in Grass Valley, California. Students fed the pigs, chickens, turkeys and rabbits, and met friendly cows, goats, and donkeys. It was an impactful culmination to a week campaigning for farmed animals. It was inspiring for GGU SALDF students to meet hundreds of individuals rescued from farms who are living out the remainder of their life in peace, free from exploitation. This experience inspired SALDF students to become more active volunteers in their community, and to spend more time discussing and writing about the abuse animals suffer on farms.
This student chapter spotlight was submitted by Tara Cooley and Hue La, co-chairs of the GGU SALDF chapter.
Related
These awards celebrate chapters that have shown incredible efforts in advancing animal law and advocating for animals through original projects and initiatives. Animal Legal Defense Fund Student Chapters are a vital part of the growing animal law movement.

The Lewis & Clark Animal Legal Defense Fund Student Chapter had a busy semester in spring 2018, holding three big events: its annual Animal Law Networking event, the Food Law Symposium, and its MeatOut BBQ.

The University of Sherbrooke Faculty of Law and University of Montréal Faculty of Law SALDF chapters are working together to put an end to the cruel rodeo industry in the province of Quebec, Canada.