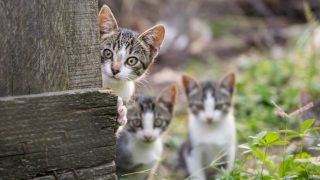 Animal Neglect Facts: State and Local Law
Animal Neglect Facts
Most states' criminal animal cruelty statutes define a minimum standard of care which requires that an animal caretaker provide food and water, and sometimes also includes shelter and veterinary care. Animal abandonment may also be specifically addressed in some statutes.
However, by definition, some animals – such as farmed animals, fish or wildlife – may be excluded from anti-cruelty statutes, and some actors – such as farmers engaged in common husbandry practices, veterinarians practicing medicine, or research facilities engaged in experiments – may be exempted from the statutes.
To read your state's laws on animal neglect, see Animal Protection Laws of the United States of America. Some state statutes also contain provisions separate from the animal cruelty statutes to address care requirements for breeding facilities. (These may be in the agriculture section of the code.)
Currently, 35 states, D.C. and Puerto Rico have felony-level provisions for extreme or repeated animal neglect. The majority of these laws have been enacted in the past 15 years. This shows that legislators and society in general are recognizing the severity of animal neglect crimes, and the need for harsher penalties to deter future violators.Some state laws have provisions for pre-conviction forfeiture, cost-of-care bonds, or liens, which can expedite permanent placement for the animals and allay the sheltering expenses for the care of seized animals.
To read about options for prosecutors seeking to gain legal custody of abused animals in states without pre-conviction forfeiture provisions, see "Solutions to Long-Term Cases in States Without Pre-conviction Forfeiture Provision".
Civil Enforcement Options
Another way to expedite permanent placement for neglected animals is to use statutory provisions that allow a private citizen or organization to file a civil suit for an injunction against an accused animal abuser, thereby allowing the court to terminate the defendant's interest in the animals.
The Animal Legal Defense Fund successfully used such a provision in North Carolina's law in Animal Legal Defense Fund v Woodley.
Other states could easily adopt similar laws, using the Animal Legal Defense Fund's Model Animal Protection Laws Collection, which includes statutory language for civil injunctive relief for criminal violations.
Similarly, in 2013 the Animal Legal Defense Fund succeeded in spearheading a new Oregon law allowing animal cruelty to be declared an abatable nuisance, permitting community members to sue to enjoin that cruelty.
Hoarding
Animal hoarders present challenges to the justice system beyond other types of neglect because the hoarder may be mentally ill. Furthermore, hoarders have a very high rate of recidivism. To stop the repeating cycle of abuse, sentencing orders should include psychological counseling and a prohibition on possession of animals. While these sentencing options are generally available to judges even where specific statutory language is lacking, adding them as mandatory provisions in each state's anti-cruelty laws would result in such sentencing orders becoming routine.
Currently, only Illinois defines "animal hoarder" in its animal protection statutes and specifically requires convicted hoarders to get a psychological evaluation and treatment.
If a hoarder is deemed incompetent to stand trial, his or her animals may be in a legal limbo. In 2006, the Animal Legal Defense Fund won an historic legal case involving termination of an unfit guardian's interests.
The Oregon Court of Appeals ruled that where a defendant has been found incompetent, a court can appoint a trustee, such as a humane society, to determine what disposition is in the best interest of the animals. Ideally, in any case that results in a suspended prosecution or deferral, the court should consider and provide for the best interest of the animals involved prior to dismissing the case.
County/City Ordinances
Animal-related ordinances at the county or city level are generally designed with the goal of protecting public safety and public health, although some provisions may be used to prevent the neglect of animals:
Municipalities may prohibit tethering of dogs or may limit tethering by the type or length of the tether or by the amount of time the animal is tethered. Nearly half of all states have laws restricting tethering. See a summary of anti-chaining laws.
Municipalities may limit the number of animals a person can possess in the jurisdiction. Although primarily aimed at preventing public nuisances, such laws may also give local authorities a tool to prevent hoarding and puppy mill situations.
Related
The gift of more than $1 million will fund the program over the next four years

This action is for U.S. residents only.

The victory follows the passage of a factory farming law and efforts to curtail the construction of new mega dairies in the state
Since 1979, the Animal Legal Defense Fund has led the charge to win animals the legal protection they so desperately need—and deserve. Your generous gift will assure that we can continue to take on cases that advance the interests of animals.
Donate