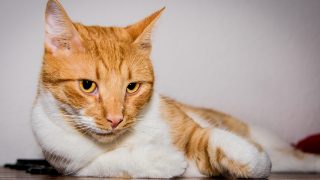 Historic Legal Decision Protects Cats From Being Returned to Their Abuser
Oregon Court of Appeals Grants Petition to Permanently Remove Cats from their Neglectful Owner
Contact: media@aldf.org
Salem, OR – The Oregon Court of Appeals issued an historic ruling for animals yesterday by allowing Linn County's Cat Champion Corp. finally to adopt out eleven cats seized from horrific conditions at the residence of Jean Marie Primrose in 2004, despite the fact that the animals were still technically her "property" by letter of the law.
In the case of Cat Champion Corp. v. Jean Marie Primrose handled by the Portland office of the Animal Legal Defense Fund and Beaverton attorney Margaret Lieberan, Cat Champion Corp., a Cottage Grove non-profit organization dedicated to rescuing and rehabilitating cats fought for the right to permanently adopt out the cats rescued from Primrose and
placed in their custody after the sheriff's department found them underfed, diseased, and living in filthy conditions in Primrose's trailer.
This is the first time ever in the U.S. that a court has stated that a fiduciary, which is similar to a trustee, can be appointed on behalf of an animal owner to determine what is in the best interest of her pets and granted a limited protective order to allow an animal protection organization to be the fiduciary making that determination.
Responding to a veterinarian's report in July 2004 that Jean Marie Primrose was neglecting her cats, the Linn County Sheriff's Department found the felines in her trailer suffering from upper respiratory infections, malnourishment, untreated skin and eye disease, and surrounded by feces and filth.
The deputies seized 11 cats and asked Cat Champion Corp. to take temporary custody of them. Primrose was later charged with criminal animal neglect in the second degree. In January 2005, the trial court dismissed those charges after a psychological evaluation concluded that Primrose was unable to aid and assist in her own defense, due to her cognitive impairment. Because Primrose was never convicted of a crime for mistreating the cats, they were not able to be forfeited and adopted out, so Primrose remained their legal owner-until yesterday's landmark ruling.
"By approving the Cat Champion Corp's petition to act as a trustee for Ms. Primrose for the limited purpose of placing the cats she neglected in permanent, loving homes, the Oregon Court of Appeals has made a huge step toward recognizing that animals are a unique kind of 'property' whose interests should be considered along with the interests of their owners," says Animal Legal Defense Fund's Executive Director Stephen Wells. "We are thrilled that the court is winding down the year by giving these animals a new beginning."
The court's opinion can be found at http://www.publications.ojd.state.or.us/A131082.htm.
Related
Predatory financing law bans loans that often trap borrowers with high interest rates

Huston narrates the Animal Legal Defense Fund film demonstrating the impact legal advocates can have on behalf of animal cruelty victims

A Courtroom Animal Advocate Program (CAAP) bill, S.2868/A.4533, which would allow law students and volunteer lawyers to advocate for animal victims in cruelty criminal cases, unanimously passed the New Jersey Senate. The bill is sponsored by Senator Nicholas Scutari and Assemblyman Raj Mukherji and endorsed by the Animal Legal Defense Fund.