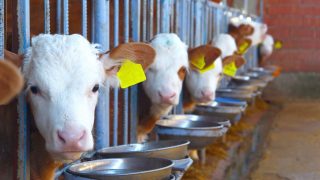 Litigation – List of Cases
Filing High Impact Lawsuits that Expand the Protections for Animals Under the Law
The Litigation Program files high-impact lawsuits against individuals and industries that exploit animals, including factory farms, puppy mills, research laboratories, and roadside zoos. We litigate cases in state and federal courts with the goal of stopping abusive practices and setting ground-breaking precedent that will establish justice for animals in the legal system. In addition to suing animal abusers, we often sue state and federal governments and agencies to invalidate laws and regulations that harm animals; and we intervene in litigation to defend animal protection laws when they are under siege from industries that abuse animals.
Winter v. Natural Resource Defense Council
The Supreme Court addressed the legality of military sonar exercises believed to cause significant harm to marine life, including whales and dolphins. The Animal Legal Defense Fund submitted an amicus brief.
Dias v City and County of Denver
In 2008, the Animal Legal Defense Fund filed an amicus curiae brief in a federal lawsuit challenging the constitutionality Denver's ban on pit bulls.
Join the Animal Legal Defense Fund's email list to stay up to date on lawsuits, legislation, and regulations affecting animals.
Sign Up Now