Revoke Permit for Tony the Truck Stop Tiger
Animal Legal Defense Fund, Warren Triche Jr., Brandi J. Sutten and Jennifer Torquati v. State of Louisiana Department of Wildlife and Fisheries
In 2011 the Animal Legal Defense Fund successfully sued the Louisiana Department of Wildlife and Fisheries, arguing that granting a permit to exhibit Tony violated state and local laws including Louisiana's 2006 ban on private ownership of big cats.
Captive Animals
Next Step
Case Closed
Appeals court upholds lower court's decision
On April 11, 2011, the Animal Legal Defense Fund filed a lawsuit against the Louisiana Department of Wildlife and Fisheries (LDWF) and its secretary Robert Barham, arguing that he violated state law in granting a permit allowing Sandlin to exhibit Tony at the Tiger Truck Stop. Joining us as a co-plaintiff in the case is former Louisiana Representative Warren Triche, who authored the state's law which led to the ban on the private ownership of tigers. Two other Louisiana residents, also deeply concerned by Tony's long-time suffering, are additional co-plaintiffs.
At the heart of our position was the fact that Sandlin's current housing of Tony violates state and local laws. In 2006, the Louisiana state legislature unanimously passed Act 715, which required LDWF to control the private ownership of big cats. The department enacted regulations prohibiting citizens from keeping a tiger as a pet or exhibiting a tiger in the state. In passing these regulations, the department rightly declared that possession of big cats and certain other exotic animals poses significant hazards to public safety and health and is detrimental to the welfare of the animals.
The regulations provided an exception, however: individuals who legally owned big cats as of August 15, 2006, were grandfathered in if they met certain criteria. These owners would need to apply for an annual permit from the LDWF. An ordinance passed in Sandlin's parish of Iberville in 1993 made it illegal for anyone to keep a tiger or other large exotic cat on his or her premises for exhibition. In other words, Sandlin did not qualify for the exception because he was not in legal possession of Tony. In addition, Sandlin is ineligible for the state's grandfathering provision because he does not live on the premises where Tony is kept, contrary to regulations Despite the fact that Sandlin was ineligible for a grandfather permit, the LDWF nonetheless issued him one.
In November 2011, Judge Michael Caldwell ordered LDWF to revoke Sandlin's permit and prohibited the agency from issuing future permits. Sandlin appealed this decision and tried to convince the court to reverse our victory, but on April 25, 2013 the Louisiana Court of Appeal upheld the lower court's ruling in the Animal Legal Defense Fund's (and Tony's) favor. The Court of Appeal agreed with Judge Caldwell, holding that Sandlin was ineligible for a permit to keep Tony.
Recent News
We are deeply saddened by the death of Tony, the Siberian-Bengal tiger held captive in the Tiger Truck Stop parking lot in Grosse Tete, Louisiana.

The bill helps end the rampant abuse of tigers and other big cats in captivity by banning private possession

Graphic images of wound are posted on Tik-Tok by an employee of Gator Park — a facility owned and operated by Jason Clay.
Related Cases
USDC: Animal Legal Defense Fund v. USDA #17-cv-03903-PJH

Michael Sandlin and Tiger Truck Stop, Inc. v. State of Louisiana ...., Through Its Secretary Robert J. Barham, Attorney General of the State of Louisiana, James D. "Buddy" Caldwell, and Iberville Parish Through Its President, J. Mitchell Ourso, JR.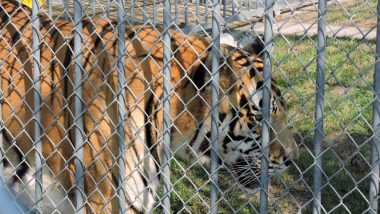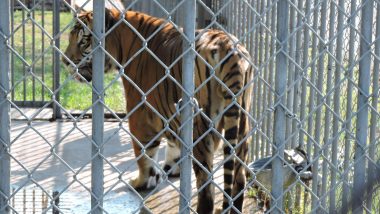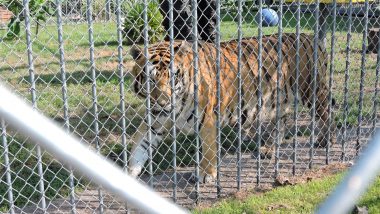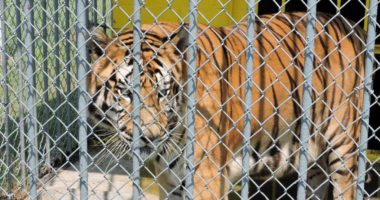 Bears, lions, and other animals languish in roadside zoos across the country. Animals live in cruel conditions, confined to small cages without the enrichment they need to lead full, happy lives. Protect animals by boycotting roadside zoos.
Take Action