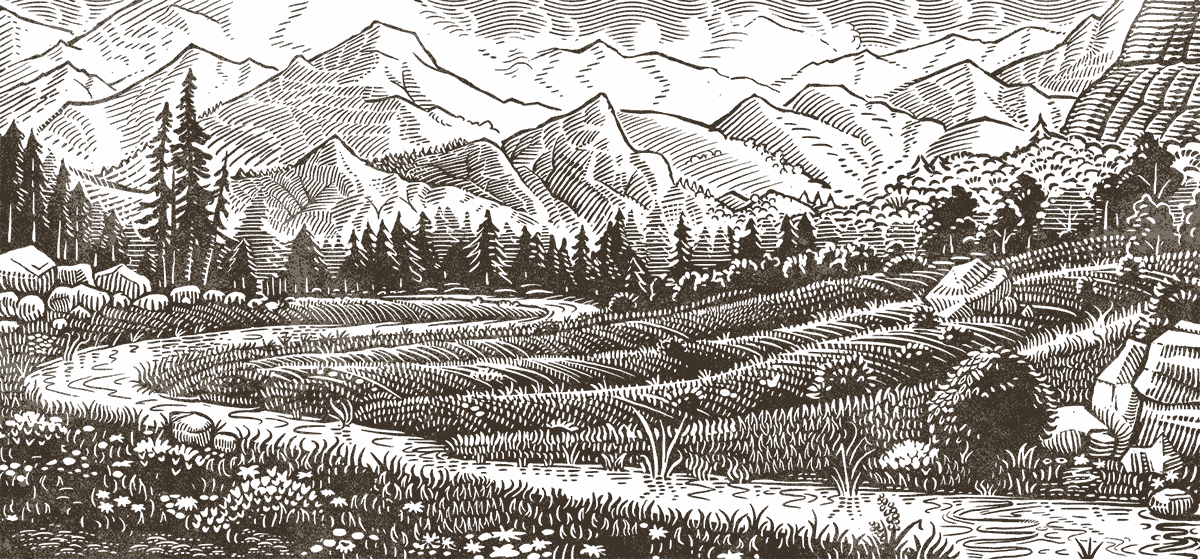 Case Study: Animal Fighting – Michael Vick
Case Study
A case study of football player Michael Vick being charged with animal fighting.

Companion Animals
Updated
December 15, 2010
Animal fighting has been brought to the forefront of the nation's attention by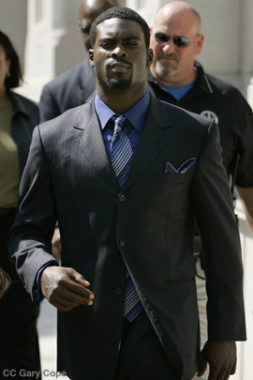 the highly publicized conviction of NFL star quarterback Michael Vick and three of his associates on federal and state charges related to illegal dogfighting. Vick and his associates operated the aptly named "Bad Newz Kennels," which housed and trained over 50 pit bull dogs, staged dog fights, killed dogs, and ran a high stakes gambling ring with purses up to $26,000.
The exposure of Bad Newz Kennels helped alert the nation to the viciousness of dogfighting that is commonplace in many communities despite the fact that dogfighting is outlawed in every state and, to some extent, by the federal government. To read about new laws and tougher penalties that have been enacted in the wake of the Vick case, see the Animal Legal Defense Fund's Animal Fighting Facts.
The Michael Vick case illustrates many attributes common to the dozens of organized dogfighting cases the Animal Legal Defense Fund has seen over the years:
The clandestine operation went undetected until law enforcement discovered it while investigating another crime.
The dogfighting activity was violent and bloody.
Dogs were methodically tested and poor performers executed.
Illegal gambling was a major part of the operation.
Shelters housing the seized dogs had to implement high security precautions.
This case has several unusual aspects, too:
The federal government brought charges (this is extremely rare).
One of the defendants had a very high public profile.
The dogs were not euthanized when the case concluded.
The court appointed a guardian/special master to handle final disposition of the dogs.
Join the Animal Legal Defense Fund's email list to stay up to date on lawsuits, legislation, and regulations affecting animals.
Sign Up Now
2001 – 2007 The Dogfighting Operation
Michael Vick, then 21, began his rookie year as a professional football player the same year he and three associates – Purnell Peace, Quanis Phillips and Tony Taylor – began a dogfighting operation named "Bad Newz Kennels" at a property purchased by Vick in Surry County, Virginia. They bought dogs in Virginia and other states and brought them to the new facility. Michael Vick became a registered dog breeder. The co-conspirators set up the property for a dogfighting venture. They built a fence along the side of the property, so that their activities would not be visible. They buried car axles with heavy chains, a common method for securing fighting dogs since the pivoting axle prevents the chain from tangling.
The men tested the dogs in fights, then shot, electrocuted, or hung dogs who did not perform well.
"In or about April 2007, PEACE, PHILLIPS, and VICK executed approximately 8 dogs that did not perform well in 'testing' sessions … by various methods, including hanging, drowning, and slamming at least one dog's body to the ground." (Federal indictment PDF)
A report by a U.S. Department of Agriculture (USDA) investigator provided more details on the April 2007 killings, saying that the men hung approximately three dogs "by placing a nylon cord over a 2 X 4 that was nailed to two trees located next to the big shed. They also drowned approximately three dogs by putting the dogs' heads in a five gallon bucket of water." They killed one dog by "slamming it to the ground several times before it died, breaking the dog's back or neck."
According to a witness, the men fought their trained pit bulls with pet dogs, and they "thought it was funny to watch the pit bull dogs belonging to Bad Newz Kennels injure or kill the other dogs."
They hosted fights at the Virginia property and transported dogs to other states to participate in fights. The fights usually occurred late at night or in the early morning and would last several hours. Before fights, dogs would be bathed to remove any poison or narcotic that might have been placed on them to hinder their opponents' performance. Losing dogs sometimes died in the pit. Gambling purses were frequently in the thousands of dollars.
Dogs who lost fights were sometimes executed:
"In or about March of 2003, PEACE, after consulting with VICK about the losing female pit bull's condition, executed the losing dog by wetting the dog down with water and electrocuting the animal." (Federal indictment PDF)
In 2004, Vick had a 10-year, $130 million contract with the NFL. By 2006, he was the NFL's highest-paid player.
Since 1979, the Animal Legal Defense Fund has been the leader in the fight to win animals the legal protection they so desperately need—and deserve. Your generous support is vital to our continued success.
FIND OUT MORE
April 25, 2007 The State Investigation
When Davon Boddie, Vick's cousin, was arrested on drug charges, he gave Vick's property as his address. Surry County authorities searching the property found probable cause to obtain a second search warrant for animal cruelty/dogfighting. Police discovered:
approximately 54 dogs, mostly pitbulls, some with scars and injuries; most were underfed
about half of the dogs were chained to car axles and just out of reach of each other, a typical arrangement for fighting dogs
a blood-stained fighting area
animal training and breeding equipment, including a "rape stand", a device in which a female dog who is too aggressive to submit to males for breeding is strapped down with her head in a restraint
a "break" or "parting" stick, used to pry open fighting dogs' mouths during fights
treadmills and "slat mills" used to condition fighting dogs
assorted paperwork documenting involvement in animal fighting ventures
performance-enhancing drugs commonly used to increase the fighting potential in dogs, as well as to keep injured dogs fighting longer.
Vick initially placed blame for the dogfight enterprise on family members who lived at the property, and he claimed that he never visited the property.
May 22, 2007 Defenders of Dogfighting
In a news interview reported by the Associated Press, two other football players defended Vick and ridiculed the idea that dogfighting is a crime:
…In an interview with WAVY-TV, (Clinton) Portis said that if the Atlanta Falcons quarterback is charged and convicted of being involved in a dog fighting operation, then authorities would be "putting him behind bars for no reason."
"I don't know if he was fighting dogs or not," Portis said. "But it's his property; it's his dogs. If that's what he wants to do, do it."
Portis said dog fighting is a "prevalent" part of life.
Portis, a native of Laurel, Mississippi, added: "I know a lot of back roads that got a dog fight if you want to go see it. But they're not bothering those people because those people are not big names. I'm sure there's some police got some dogs that are fighting them, some judges got dogs and everything else."
"Politicians," added (Chris) Samuels, who found it hard to keep from giggling while Portis was talking.
"Presidents," added Portis with a laugh.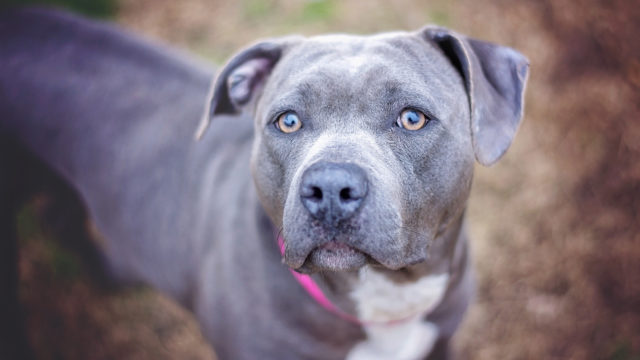 June 7, 2007 The Federal Investigation
A witness told federal investigators that dog carcasses were buried on the property. A federal investigator then asked local authorities to execute a search warrant, but they did not. After waiting for a week, officials with the U.S. Department of Agriculture executed their own search warrant and found the remains of 6-8 dogs in two mass graves. A month later, on July 6, Federal investigators executed a fourth search warrant.
July 17, 2007 The Federal Case – Indictment
Vick, now 27, and his three associates were indicted by a federal grand jury in the Eastern District of Virginia and charged with violating federal law 18 U.S.C. § 371 Conspiracy to Travel in Interstate Commerce in Aid of Unlawful Activities and to Sponsor a Dog in an Animal Fighting Venture. The "interstate commerce" requirement gives the federal court jurisdiction over an activity otherwise regulated by the state. Interstate commerce in the Vick case included transporting fighting dogs across state lines and hosting dogfight participants from other states at Bad Newz Kennels. The charge is a felony with a maximum penalty of 5 years prison. A charge under the Animal Welfare Act (AWA) for animal fighting activities in violation of 7 USC § 2156 would have carried only a maximum penalty of one year per violation.
August 27, 2007 The Federal Case – Guilty Pleas
After his three co-conspirators pled guilty and began cooperating with authorities, Vick also pled guilty, admitting to funding the dogfighting operation and the associated gambling operation. He admitted to knowing about four dogs that his co-conspirators killed in 2002, and he admitted to agreeing to the hanging and drowning of 6-8 dogs who underperformed in 2007. Vick admitted he provided most of the operation and gambling monies, but he claimed he did not gamble by placing side bets or receiving proceeds from the purses.
Under the sentencing guidelines for this crime, most first time offenders would have received no jail time. However, Chuck Rosenberg, the U.S. attorney who prosecuted the case, described the behavior of Vick, Peace and Phillips as "heinous, cruel and inhumane", so he required that they accept a provision in the plea agreement that they "understated the severity of their conduct and that a sentence substantially above what would otherwise be called for by the guidelines would be appropriate." Rosenberg recommended 12-18 months in prison rather than 0-6 months. Co-conspirator Tony Taylor was not included in this recommendation since he was the first to plead guilty and assist in the investigation. A sentencing hearing was scheduled for December 10, 2007.
The NFL suspended Vick indefinitely without pay. After he is freed from prison, he could be reinstated.
September 24, 2007 The State Case – Indictment
Five months after the initial investigation, a Surry County grand jury brought two charges against Vick:
one count of violating VA Code Ann. § 3.1-796.124, which makes it a Class 6 felony to promote dogfighting for amusement, sport, or financial gain or to possess, own, train, transport, or sell any dog intended for animal fighting
one count of violating VA Code Ann. § 3.1-796.122(H), which makes it a Class 6 felony to engage in the torture, ill-treatment, beating, maiming, mutilation, or killing of animals.
Peace, Phillips and Taylor were charged with promoting dogfighting . Taylor was also charged with three counts of unlawful torture and killing of dogs, and Peace was charged with one count. Each is a felony charge with a maximum 5 year prison term. The grand jury declined to bring eight possible additional counts of animal cruelty against the s.
The following is an excerpt from a news article describing the charges:
[Surry County Commonwealth Attorney Gerald] Poindexter said he pursued the case because "crimes that were not prosecuted were committed in Surry County." But he would not say whether his prosecutors put Vick's federal court admission that he killed dogs before the grand jury.
"Come on, lady, how much do you need to know?" he told a reporter who was pressing the issue.
October 1, 2007 The Federal Case – Dogs Evaluated
A team of animal behavior experts selected by the American Society for the Prevention of Cruelty to Animals analyzed the 49 seized dogs and then recommended whether they were suitable either to be adopted by families, trained as police dogs, placed in a sanctuary, or should be euthanized. Only one dog was recommended for euthanasia because of extreme aggression. The others were deemed suitable to go to sanctuaries or foster homes for socialization training.
October 12, 2007 The Federal Case – Vick Lied about Killing Dogs
Even after pleading guilty to the federal charges, Vick had not admitted to hands-on participation in the killing of poorly performing dogs. Investigators got conflicting statements from Vick's co-conspirators. An FBI agent questioned Vick for five hours and gave him a polygraph test that indicated he was lying. Vick finally admitted to killing two dogs. According to Assistant U.S. Attorney Michael Gill, Vick told the polygrapher, "I carried a dog over to Quanis Phillips, who tied a rope around its neck. I dropped the dog."
October 15, 2007 The Federal Case – Court Appoints Guardian for Dogs
The U.S. District Court appointed Rebecca J. Huss, Professor of Law at Valparaiso University School of Law, as the guardian/special master to advise the Court regarding the final disposition of the remaining 48 seized dogs. Per her recommendation, the dogs were eventually dispersed to eight rescue organizations for adoption, rehabilitation or lifetime care in sanctuaries, where they have been neutered.
Writer Jim Gorant described the assessment of the dogs:
"What the [ASPCA animal behavior] team found was a mixed bag. Fewer than a dozen of the dogs were hardened fighters. Two had to be put down–one was excessively violent and the other was suffering from an irreparable injury. Then there was a group characterized as "pancake dogs"–animals so traumatized they flattened themselves on the ground and trembled when humans approached. Another group seemed to be dogs of relatively friendly normal temperament who simply had never been socialized."
November 19, 2007 The Federal Case – Vick Reports Early to Prison
In a single day, Vick bought a $99,000 Mercedes; he cashed checks that totaled $24,900; he gave $44,000 to friends and relations; he paid a public relations firm $23,000; and then he reported to prison. In less than 3 months since the day he pled guilty to federal charges, Vick spent over $3 million.
December 10, 2007 The Federal Case – Sentencing
At the sentencing hearing, due to Vick's deliberate false statements to federal investigators about his role in killing dogs, the prosecutor recommended Vick be sentenced at the upper end of the 12-18 month guideline range. Vick had also lied to investigators about testing positive for marijuana in September, a violation of the terms of his release on bail.
A probation officer, who did not believe Vick had accepted responsibility, recommended an enhanced sentencing range of between 18 months and two years in prison.
U.S. District Judge Henry E. Hudson said Vick also played a major role by "promoting, funding and facilitating this cruel and inhumane sporting activity".
The judge added at least 5 months to the prosecutor's recommended prison term, sentencing Michael Vick to 23 months in prison. Vick also received three years' supervised probation during which he cannot buy, sell or own dogs. He was fined $5,000. Vick was also ordered to pay $928,073 as restitution for the 53 dogs seized from his property. He was required to enter a drug/alcohol treatment program and pay for the cost of treatment. Vick is scheduled to be released from federal prison July 20, 2009.
Peace, Phillips and Taylor all pled guilty to the same charge earlier in the year. Peace was sentenced to 18 months prison and Phillips to 21 months prison.
A few days later, Tony Taylor was sentenced. Since Taylor had been the first co-conspirator to plead guilty and had provided investigators with details of the dogfighting operation, the prosecutor had recommended that Taylor only serve probation. However, the judge said it wouldn't be fair to give Taylor probation after sentencing his co-defendants to 18 months or more in prison. He told Taylor, "You were as much an abuser of animals as any other defendant in this case." The judge sentenced Taylor to 2 months in prison.
The defendants cannot appeal the judge's sentences.
January 25, 2008 The Federal Case – Sentencing an Accessory
Oscar Allen, who had sold a pit bull to Vick and had attended some of the fights, was sentenced to 3 years probation and a $500 fine. In October 2007 he had pled guilty to conspiracy to travel in interstate commerce and to aiding in illegal gambling and to sponsoring a dog in animal fighting. He had cooperated with the federal investigation.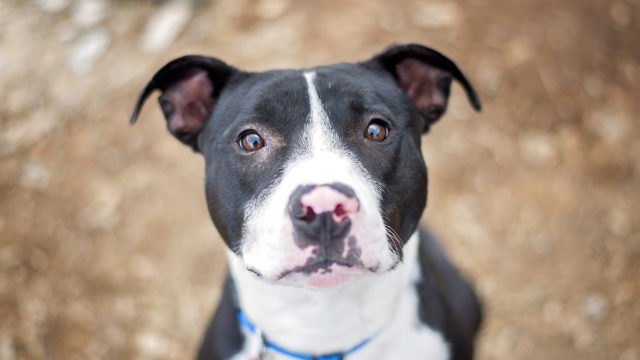 February 2, 2008 The Dogs
A New York Times article followed up on the lives of several of the dogs who were transported to Best Friends Animal Society sanctuary. This excerpt describes a dog named Georgia:
A quick survey of Georgia, a caramel-colored pit bull mix with cropped ears and soulful brown eyes, offers a road map to a difficult life. Her tongue juts from the left side of her mouth because her jaw, once broken, healed at an awkward angle. Her tail zigzags.
Scars from puncture wounds on her face, legs and torso reveal that she was a fighter. Her misshapen, dangling teats show that she might have been such a successful, vicious competitor that she was forcibly bred, her new handlers suspect, again and again.
But there is one haunting sign that Georgia might have endured the most abuse of any of the 47 surviving pit bulls seized last April from the property of the former Atlanta Falcons quarterback Michael Vick in connection with an illegal dogfighting ring.
Georgia has no teeth. All 42 of them were pried from her mouth, most likely to make certain she could not harm male dogs during forced breeding.
Her caregivers here at the Best Friends Animal Society sanctuary, the new home for 22 of Mr. Vick's former dogs, are less concerned with her physical wounds than her emotional ones. They wonder why she barks incessantly at her doghouse and what makes her roll her toys so obsessively that her nose is rubbed raw.
…
Georgia, known to lick the face of anyone who comes near.
…
Having those teeth extracted, Dr. McMillan and other vets said, must have been excruciating. Even with medication, dogs are in pain after losing one tooth, which may take more than an hour of digging, prying and leveling to pull.
June 21, 2008 The Dogs
NPR news reported that Leo, a former Bad Newz dog, is now working as a therapy dog for cancer patients.
July 7, 2008
Michael Vick filed for Chapter 11 bankruptcy protection, with assets around $16 million and liabilities over $20 million.
November 25, 2008 The State Case – Guilty Pleas
Each defendant pled guilty to one felony count of dogfighting. Cruelty to animals charges were dropped. The judge ordered a three-year suspended prison term and a $2,500 fine, which will also be suspended if they pay court costs of $380 and maintain good behavior for four years.
According to an AP news report, "After the hearing, Surry County Commonwealth Attorney Gerald Poindexter approached Vick's mother and hugged her, saying, 'At least some of this is over.'"
Upon resolving the state charges, Vick became eligible to complete his federal prison term in a halfway house, rather than remain in federal prison until his scheduled release date of July 20, 2009. He expects to be reinstated in the NFL.
May 20, 2009
After 18 months, Vick was released from federal prison in Leavenworth, Kansas to spend the final two months of his sentence confined to his luxury home in Virginia.
July 20, 2009
Vick's electronic ankle monitor was removed and his federal incarceration ended.
July 27, 2009
NFL Commissioner Roger Goodell reinstated Vick into the NFL with some conditions. Subsequently, Vick was hired to play football for the Philadelphia Eagles with a base salary of $1.6 million for the first season. Under a court mandated bankruptcy agreement that extends to 2015, much of Vick's salary goes to pay off debts he accumulated prior to his incarceration.
Vick agreed to speak to various community groups as part of an anti-dogfighting campaign organized by the Humane Society of the United States.
July 2010
Investigations continued into Vick's alleged illegal gifts to friends and family prior to his incarceration and declaration of bankruptcy.
August 2010
Many of the dogs have been adopted into homes with children and other dogs. Some, like Mel, continue to deal with fear issues, whereas others work as therapy dogs in hospitals or children's programs. Some will live out their lives at Best Friends Animal Society.
More details of the dogs' lives since their rescue are recounted in Jim Gorant's book The Lost Dogs.
September 2010
The Philadelphia Eagles named Vick as the team's starting quarterback and will be paying him $5.25 million this season.
December 2010
Vick stated that in the future he would like to have a dog again as a family pet.
Join the Animal Legal Defense Fund's email list to stay up to date on lawsuits, legislation, and regulations affecting animals.
Sign Up Now
Recent News
Cows were killed in Madison, Brazos, and Robertson Counties, Texas.

Following the dismissal of Justice's case upheld on appeal, the Animal Legal Defense Fund continues to seek accountability under the law.

On February 8, 2022, the Washington State Supreme Court issued a decision in the case State v. Charmarke Abdi-Issa, holding that animal cruelty could be designated a crime of domestic violence, and that an animal's guardian could be considered a victim of the crime.