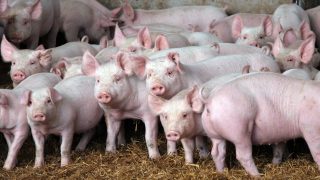 Tell Congress: Stop the Next Pandemic — Don't Bail Out Factory Farms with Tax Dollars
This action is for US residents only.
COVID-19, like most widespread disease, is zoonotic — which means the disease originated in an animal and transmitted to humans. HIV, Ebola, H1N1, and avian flu are just a few examples of animal borne illnesses with deadly effects. The foundation of all these diseases are based in the way people raise, kill, and eat animals.
Factory farms are breeding grounds for zoonotic disease — the ideal conditions for viruses to mutate and turn from harmless to deadly. The industrial animal agriculture system is already responsible for outbreaks of swine flu and avian flu which have killed thousands of people.
But instead of cracking down on factory farming, Congress is actually subsidizing their dangerous and cruel practices with our tax dollars.
Tell Congress: Stop the next pandemic. Don't bail out factory farming with tax dollars. No COVID-19 stimulus funding for factory farms.
Report animal abuse, worker safety concerns, depopulation, or illegal disposal confidentially.
REPORT NOW
Related
Edie Falco narrates the Animal Legal Defense Fund film demanding transparency in factory farming

D.C. Court of Appeals rules Animal Legal Defense Fund can pursue its claims

Animal Legal Defense Fund-led coalition wins major victory for animal protection, food and worker safety, and the First Amendment