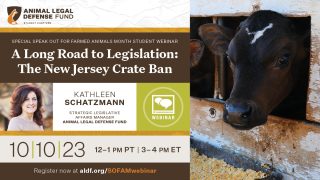 A Long Road to Legislation: the New Jersey Gestation Crate Ban Story
Tuesday, October 10, 2023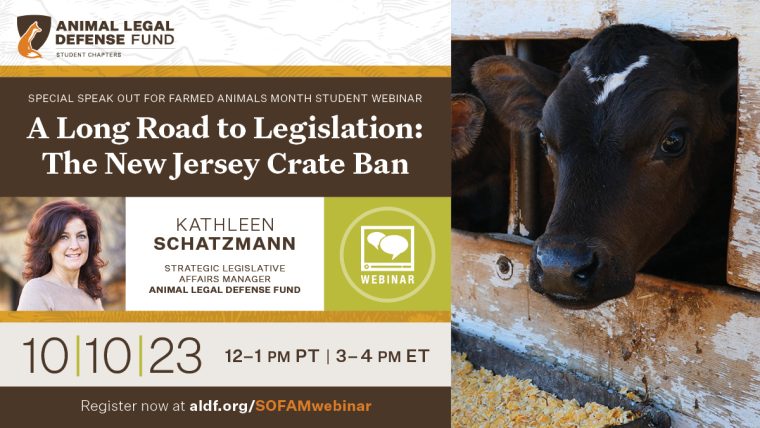 This summer, New Jersey became the 11th state to ban the extreme confinement of mother pigs and calves used for veal. Join Animal Legal Defense Fund Strategic Legislative Affairs Manager Kathleen Schatzmann and learn about the long journey to pass this important legislation – and how advocacy made it possible.
The webinar is for law students as part of Speak Out for Farmed Animals Month (SOFAM).
It will be presented live on Tuesday, October 10, and a recording will be available afterwards. Register for the free webinar!
Student chapters are encouraged to plan a SOFAM event around the webinar and host it as a watch party. Be sure to apply for a project grant to help cover plant-based food options for lunch. Individual students are absolutely welcomed to attend, too!
Join the Animal Legal Defense Fund's email list to stay up to date on lawsuits, legislation, and regulations affecting animals.
Sign Up Now
Related
The gift of more than $1 million will fund the program over the next four years

This action is for U.S. residents only.

The victory follows the passage of a factory farming law and efforts to curtail the construction of new mega dairies in the state