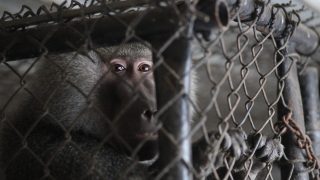 Precedent-Setting Victory Against Cricket Hollow Zoo for Violating Animal Cruelty Laws
Animal Legal Defense Fund victory affirmed on appeal: Iowa roadside zoo and owners are prohibited from obtaining or owning animals under state public nuisance law
Contact: media@aldf.org
DES MOINES, Iowa — The Iowa Court of Appeals ruled in favor of plaintiffs represented by the Animal Legal Defense Fund in a lawsuit against Cricket Hollow Zoo for violating state animal cruelty laws following an appeal of the court's 2019 decision. The lawsuit, filed in 2018, alleged Cricket Hollow Zoo chronically violated Iowa's state animal cruelty law and sets precedent that violations of animal cruelty laws constitute public nuisance violations. The zoo owners' routine neglect of approximately 300 animals is well-documented in dozens of U.S. Department of Agriculture (USDA) inspection reports over the past decade.
"This decision affirms that animal cruelty violations are a nuisance," says Animal Legal Defense Fund Executive Director Stephen Wells. "Animals held in cruel conditions are already benefiting from this victory — as the Animal Legal Defense Fund has nuisance lawsuits pending against roadside zoos in other states."
In December of 2019, the Animal Legal Defense Fund and the Animal Rescue League of Iowa coordinated the rescue and transfer of over 400 animals on zoo property to rescue partners and sanctuaries across the country. At the time of the rescue, over 100 animals were missing from the property. The Animal Legal Defense Fund filed a motion for contempt charges against zoo owner Pam Sellner for violating the court's order. A decision in that proceeding is pending — and the Animal Legal Defense Fund continues to track down the missing animals.
Prior to today's victory, Judge Wittig, who ruled in the 2019 decision, found that the animals were living in "deplorable" conditions with enclosures that were "subpar in all manners."
The Animal Legal Defense Fund is a harsh critic of the U.S. Department of Agriculture (USDA) and its lax enforcement mechanisms to hold animal exhibitors accountable for violations of the federal Animal Welfare Act. The organization filed a lawsuit against the USDA for reissuing an exhibitor license to Cricket Hollow Zoo, as it had undeniable evidence the facility did not meet the standards for renewal. As a result of that lawsuit, the USDA revoked Cricket Hollow Zoo's license in 2017.
In a previous lawsuit against Cricket Hollow Zoo, the Animal Legal Defense Fund set another critical legal precedent: That the Endangered Species Act applies to listed species in captivity, as well as those in the wild. That lawsuit, decided in 2016 by the U.S. District Court for the Northern District of Iowa and affirmed by a three-judge panel of the Eighth Circuit in 2018, concerned the treatment of four tigers and three lemurs. An additional Animal Legal Defense Fund lawsuit filed in 2016 against Cricket Hollow Zoo resulted in the rescue of two African lionesses — Jonwah and Njjarra.
A copy of the decision is available upon request.
Join the Animal Legal Defense Fund's email list to stay up to date on lawsuits, legislation, and regulations affecting animals.
Sign Up Now
Related
On March 23, 2023, Judge Julie Rubin of the federal district court in Maryland issued a decision, ruling that the United States Department of Agriculture (USDA) acted unlawfully by denying a petition for rulemaking to improve the standard for the psychological well-being of primates in research

Animal Legal Defense Fund files motion for summary judgement with damning evidence against the university

The lawsuit alleges federally endangered and threatened animals such as the tigers, lions, and ring-tailed lemurs are receiving inadequate care at Tiger Creek