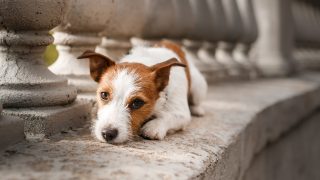 Madrid Court Awards Joint Custody of a Dog in a Pioneering Ruling
By Nicole Pallotta, Senior Policy Program Manager
In a pioneering ruling issued in October 2021, a Madrid court awarded joint custody of a dog, explicitly recognizing the emotional bond between the plaintiff and the animal. In centering the relationship between the woman and her dog, the judge found "the mere formal ownership of the animal, whether as owner or adopter, cannot prevail" over the "affection of the applicant."
This ruling is significant because it recognizes that formal ownership should not be dispositive in resolving custodial disputes over shared companion animals — rather, courts should take emotional bonds into account.
According to Spain's RTVE, which reported on the decision, the judge wrote: "The evidence in the proceedings reveals an emotional relationship between the plaintiff and the dog that is worthy of legal protection."1
While not the first instance of a couple being awarded joint custody of an animal in Spain, this was the first time a Spanish court transcended the property framework commonly used in such cases. Responding to a novel argument presented by the plaintiff's attorney, animal lawyer Lola Garcia, the court's ruling was grounded in a relational standard more akin to that used in child custody cases, as it prioritized the well-being of all parties, including the animal, over formal ownership rights.2
The dispute involved an unmarried couple who adopted a border collie named Panda together and shared custody of him for more than a year. The judge ordered that Panda spend alternating months in each home, finding both partners are "jointly responsible" and "co-caretakers," as reported by RTVE. They will also share veterinary and other expenses related to Panda's care.
Garcia, of the Spanish law firm Law & Animals, told the Washington Post that the case is unique because rather than relying on the property section of Spain's Civil Code — as she had successfully done in a previous dog custody case3 — she used the 1987 European Convention for the Protection of Pet Animals, which Spain ratified in 2017:
Under the convention, both members of the couple . . . were presented as 'co-responsible' and 'co-caretakers' of the animal, not 'co-owners,' which avoided treating the pet as a 'thing' or 'shared good.'
'What is novel is to be able to use the convention to avoid having to define the pet as a shared thing or property and instead to focus on the animal's welfare, the emotional bond and the shared responsibility of taking care of an animal, beyond the pet being considered a property,' she said.
Relatedly, during the time of this trial, Spain was in the process of updating its Civil Code to change animals' legal status from "objects" to "sentient beings." However, grounded as it was in the European Convention rather than the Spanish Civil Code, the Madrid court's animal-forward ruling was reached independently of this imminent reform, which was approved in December 2021. Yet, the jurisprudence revealed in this pioneering decision is consistent with this important legislative change. Both reflect growing recognition in Spain and legal systems worldwide that animals are fundamentally different from other types of property.
Similar reforms are underway in the U.S., as courts increasingly recognize the property paradigm still commonly applied in animal custody cases is inadequate to address the needs of multispecies families. In addition, several states have passed legislation in recent years requiring courts to consider the needs or care of the animal when resolving custodial disputes. New York recently became the sixth state to pass such a law, with Alaska being the first to do so in 2017. The Animal Legal Defense Fund routinely files amicus briefs in dissolution cases urging courts to take the best interests of the animal into consideration.
Further Reading
---
References
While animal custody cases typically involve companion animals, this is not always the case. A recent high court ruling in India used a child custody standard to resolve a dispute over legal ownership of an elephant. See: https://aldf.org/article/madras-high-court-uses-child-custody-approach-to-resolve-dispute-over-legal-ownership-of-elephant/
That case resulted in a shared possession order, but used the property section of the Civil Code. This decision, reached in a different jurisdiction in 2019, is notable, however, because the judge declared that animals should not be analyzed as "things" but rather as "living beings endowed with sensitivity" — using the language in the proposed reform to the Civil Code, which had not yet passed into law but appeared imminent. See: https://intercids.org/novedoso-auto-juzgado-no9-valladolid-6-marzo-2019-aplicacion-art103-codigo-civil-animales-compania/
Join the Animal Legal Defense Fund's email list to stay up to date on lawsuits, legislation, and regulations affecting animals.
Sign Up Now
Related
Actress Christian Serratos narrates the Animal Legal Defense Fund film advocating for an end to puppy mills

Predatory financing law bans loans that often trap borrowers with high interest rates

The California Court of Appeals affirmed a ruling by a lower court recognizing Society for the Prevention of Animal Cruelty (SPCA) organizations' ability to file lawsuits against entities that violate existing animal protection laws.