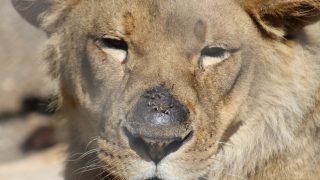 Lawsuit Results in Two African Lions—Jonwah and Njjarra—Released to Sanctuary from Cricket Hollow Zoo
Second Animal Legal Defense Fund lawsuit to free endangered animals from Cricket Hollow roadside zoo.
Contact: media@aldf.org
Des Moines, IA — Today, two endangered African lionesses are now safely in the care of The Wild Animal Sanctuary in Colorado, after the Animal Legal Defense Fund reached a settlement with Manchester's Cricket Hollow Zoo owners, Pam and Tom Sellner. On Monday, August 1, 2016, The Wild Animal Sanctuary took custody of the two lions with veterinary support from the Blank Park Zoo in Des Moines.
The Lionesses, Jonwah and Njjarra, are sixteen-years-old and eighteen-years-old, respectively. Visitors to the zoo in June and July had reported both lionesses in distress, the evidence of which the Animal Legal Defense Fund presented to an Iowa judge on July 21, 2016. The judge agreed with the Animal Legal Defense Fund's grave concerns about the lionesses' condition and ordered the Sellners to permit a qualified veterinarian to examine them. The parties settled soon after the examination.
"Our primary concern is for the lions' health and well-being," says Animal Legal Defense Fund Executive Director Stephen Wells. "The success of these lawsuits set a new standard for the way endangered species can be treated in captivity—and we will continue to fight for other animals' release to reputable sanctuaries."
"Jonwah and Njjarra are currently under veterinary treatment in the sanctuary's Bolivian Lion House," says The Wild Animal Sanctuary Executive Director Pat Craig. "Their condition is being assessed and treated. Granting their health allows, after rehabilitation they will join an existing lion pride and live out their days in social groups with access to the quality veterinary care that is so necessary for their health and well-being."
This is the second case the Animal Legal Defense Fund has won against the Cricket Hollow Zoo under the Endangered Species Act. As a result of the first case, which went to trial last October, four endangered tigers and three endangered lemurs were transferred to new homes this summer. Upon African lions being added to the endangered species protected list, the Animal Legal Defense Fund sued Cricket Hollow Zoo on the same grounds.
Press are invited to The Wild Animal Sanctuary on Thursday, August 11, 2016 from 10:00 a.m. – 12:00 p.m. to see the lionesses after their medical evaluation has been completed. Spokespersons from the Animal Legal Defense Fund and The Wild Animal Sanctuary will be available for on-camera interviews at this time.
The Animal Legal Defense Fund has pending Endangered Species Act based litigation that would free Candy the chimp from an amusement park in Louisiana, Lucky the elephant from the San Antonio Zoo and Lolita the orca from the Miami Seaquarium.
Related
U.S. District Court has ruled in favor of the Animal Legal Defense Fund following its lawsuit to vacate rules imposed by the U.S. Department of the Interior in 2019 under the Trump administration that weakened the Endangered Species Act (ESA).

Reward for information leading to the arrest and conviction of the person or people responsible for illegally shooting and killing a red wolf in Tyrrell County, North Carolina.

The lawsuit alleges federally endangered and threatened animals such as the tigers, lions, and ring-tailed lemurs are receiving inadequate care at Tiger Creek