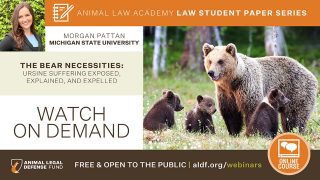 Law Student Paper Series — The Bear Necessities: Ursine Suffering Exposed, Explained, and Expelled
Presented 3/4/21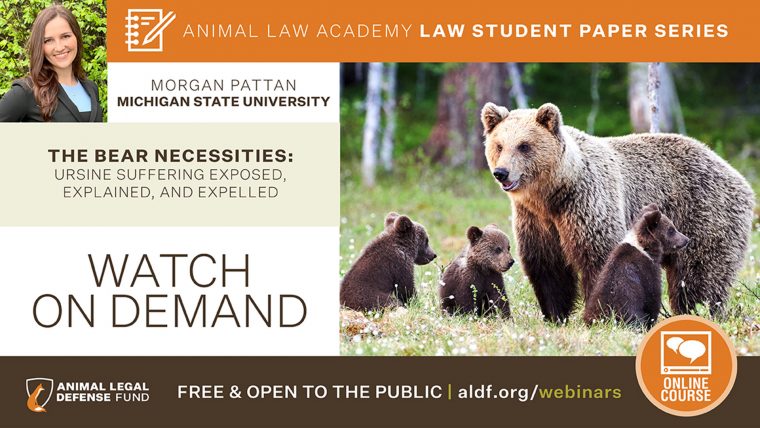 The United States is home to tens of thousands of bears, yet they receive little attention in comparison to other wildlife. Join Morgan Pattan, Michigan State University, as she discusses the psychological impact of captivity on bears. This presentation will detail the current legal framework that governs the care and keeping of bears in captivity, the insufficiency of this framework, and the harm that it inevitably causes to these intelligent beings. Additionally, possible changes to the current framework that ensure animal protection is the primary priority will be considered. A brief Q&A to follow.
This webinar has been pre-recorded. Watch it now!
Resources
Related
The U.S. Department of Agriculture (USDA) has cancelled notorious wildlife exhibitor and trafficker Robert Sawmiller's license to engage in exhibition, breeding and selling activities regulated by the Animal Welfare Act (AWA) following the Animal Legal Defense Fund's lawsuit against the agency for initially renewing the license. 

The court's decision ensures Special Memories Zoo is permanently closed following Animal Legal Defense Fund lawsuit

For years, captive wild animals have suffered in the care of traveling zoo operator Robert Sawmiller. On December 9, 2020 two wolves and a Labrador named Fancy were rescued and transported to sanctuary through legal action brought by the Animal Legal Defense Fund.
Join the Animal Legal Defense Fund's email list to stay up to date on lawsuits, legislation, and regulations affecting animals.
Sign Up Now