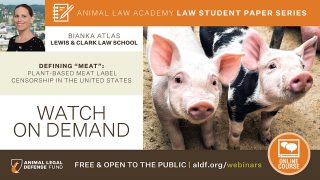 Law Student Paper Series — Defining 'Meat': Plant-based Meat Label Censorship in the United States
Presented 4/1/21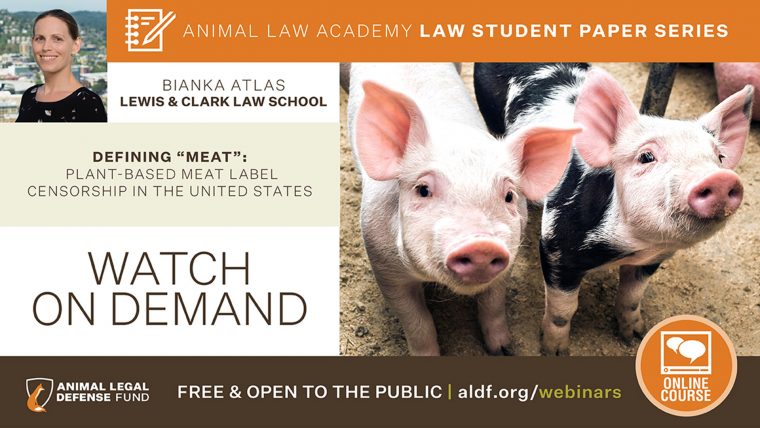 Increasingly popular among consumers, plant-based meat has a solid foothold in the U.S. market. The rising success of plant-based meat and the looming competition of cultivated meat has sparked state legislation censoring the use of meat nomenclature on labels for these foods. Join Bianka Atlas, Lewis & Clark Law School, for an overview of the plant-based meat labeling landscape in the United States, with a focus on current and pending state legislation and lawsuits. A brief Q&A to follow.
This webinar has been pre-recorded. Watch it now!
Resources
Related
The United States District Court for the Northern District of California ruled in favor of the Animal Legal Defense Fund and its co-plaintiffs, denying an attempt by the Food and Drug Administration (FDA) to dismiss a lawsuit against the agency.

The Animal Legal Defense Fund released the second in a series of white papers — COVID-19 and Factory Farming —providing policy recommendations to address industrial animal agriculture's role in our heightened risk for zoonotic diseases outbreaks, like COVID-19, and its potential to be the source of the next global pandemic.

Video shows malicious acts of violence toward cows, gross neglect of calves
Join the Animal Legal Defense Fund's email list to stay up to date on lawsuits, legislation, and regulations affecting animals.
Sign Up Now