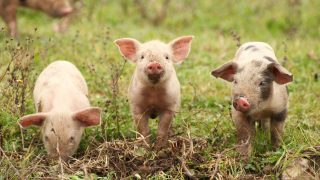 Harvard Law School First Spotlight of the Year
We are delighted to announce that the first Animal Legal Defense Fund spotlight of the year is on Harvard Law School's Animal Legal Defense Fund Student chapter.
This chapter has worked hard to advance the field of animal law and advocate for animals through initiatives on and off campus. Harvard Student Chapter members held networking and fundraising events, organized conferences, held tabling days, brought in guest speakers, built coalitions with other law school student organizations, and screened films.
Last year, the chapter teamed up with the Harvard Food Law Society for a day-long conference on factory farming—"The Meat We Eat"—and more than 200 people attended. Nearly 100 people attended an April 2014 event with MIT's Ryan Shapiro, titled "That Time the FBI Labeled My Dissertation Research a Threat to National Security': Scholarly Inquiry, Political Dissent, and Freedom of Information."
Harvard's Student Chapter also had great turnout for events they hosted about orcas, plant-based diets, animal law, libertarianism, and issues regarding captivity. In addition, the chapter screened the films Cowspiracy: The Sustainability Secret and Speciesism. Each of these fabulous events was catered by vegan providers. But that's not all this chapter has accomplished. They also sponsored a trip to Maple Farm Animal Sanctuary, hosted a talk by World Animal Net attorney Akisha Townsend (a former Animal Legal Defense Fund Advancement of Animal Law Scholarship recipient), and attended the March 2014 Ivy League Vegan Conference at Princeton.
What else made Harvard Law School's Animal Legal Defense Fund Student Chapter stand out? In 2013, Harvard Law School's Animal Legal Defense Fund Student Chapter members joined a phone bank to encourage citizens in New Jersey to override the veto of the law that would have banned gestation crates for pregnant pigs. They hosted David Wolfson that year, a partner at Milbank, Tweed, Hadley & McCloy, who gave a talk on pro bono animal protection legal assistance, and Nick Cooney, founder of the Humane League, who presented "Legal Battles in the Food Industry." The chapter held tabling events, distributing vegetarian food and leaflets advocating for meatless diets.
And it doesn't stop there. We are thrilled to announce that Harvard Law School Animal Legal Defense Fund Student Chapter will be hosting an Animal Law Week in February 2015 and Animal Legal Defense Fund's Carter Dillard and Chris Green will be presenting.
On Monday, February 23, Animal Legal Defense Fund's Carter Dillard and Stephanie Feldstein of the Center for Biological Diversity will be hosting a panel entitled, "Animal Rights, Human Rights, and the Future of Our Planet," from 12:00-1:00 PM, in room WCC 2004.
Other lunchtime events during the Animal Law Week include a forum on Harvard Law School's new animal law program, with Harvard professor Kristen Stilt on Tuesday, February 24. On Wednesday, Chris Green will lead a discussion about "puppy mills" and dog breeding, followed by an open forum about animal rights on Thursday with PETA's president, Ingrid Newkirk. Friday through Sunday, Harvard Law School will host the National Animal Law Competitions.
"I love this chapter because the people in it are amazingly passionate about helping animals and inspiring others to do the same," says Dan Sondike, Harvard Law School Animal Legal Defense Fund Student Chapter member. "Animal law is unique in the extent to which it lags behind the science and philosophy that suggest animals are beings worthy of our moral consideration. As a result, it is an area of law ripe for change. The prospect of becoming an animal lawyer is exciting because it is an opportunity to effect that change."
Thank you to the Harvard Law School Animal Legal Defense Fund Student Chapter for your dedication to animal protection!
Recent News
The gift of more than $1 million will fund the program over the next four years

An Act to Protect Animals From Convicted Animal Abusers (H.1703/S.1076) would prohibit a person convicted of certain animal cruelty crimes — including torture, mutilation, and dogfighting — from possessing, adopting, or fostering an animal for at least five years.

This action is for U.S. residents only.