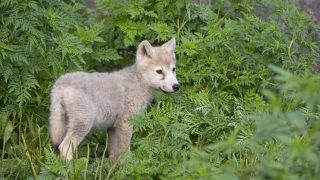 Fur-Ever Wild Agrees to Not Kill Gray Wolves as Lawsuit Settles
Contact: media@aldf.org
MINNEAPOLIS — As part of a court settlement, Fur-Ever Wild — a Minnesota-based business that displayed wolf pups in a petting zoo then later sold the wolves' pelts — has agreed not to kill wolves or to sell wolves' parts.
This settlement resolves a federal lawsuit filed in 2017 by the Animal Legal Defense Fund, the nation's preeminent legal advocacy organization for animals, and the Lockwood Animal Rescue Center, an animal sanctuary in California. The lawsuit alleged that Fur-Ever Wild killed federally-protected gray wolves and sold their parts in violation of the Endangered Species Act (ESA).
Fur-Ever Wild was ordered by the Dakota County District Court in a separate lawsuit with Eureka Township to relinquish all but one of its wolves in 2018. Some of the wolves, including Twiggy and Big Boy, were transferred to Lockwood Animal Rescue Center. The last wolf in Fur-Ever Wild's possession will now also be safe under the terms of this settlement.
"The wolves from Fur-Ever Wild were seen as a commodity, to be exploited for profit. Today that comes to an end," says Animal Legal Defense Fund Executive Director Stephen Wells. "We will continue to monitor the situation and use all legal tools at our disposal to protect the wolves."
"We rescued dozens of wolves that came from this facility, and are happy that wolves will be protected going forward thanks to this settlement agreement," says Matthew Simmons, co-founder of Lockwood Animal Rescue Center.
In June 2019, the court ruled that the ESA applies to at least some wolves with dog genes. Ruling in favor of the Animal Legal Defense Fund and Lockwood Animal Rescue Center on a motion for summary judgment, the court found that the wolves at issue in this case are generally wolf with small amounts of detectable dog genes. The ruling left open the possibility that ESA protection could extend to wolves with even more recent dog ancestry.
Join the Animal Legal Defense Fund's email list to stay up to date on lawsuits, legislation, and regulations affecting animals.
Sign Up Now
Related
Today the U.S. District Court for the District of Minnesota issued a critical ruling in favor of wolves' legal protection — determining that gray wolves are not excluded from the Endangered Species Act even if they have some detectable dog genes.

The Animal Legal Defense Fund sent notice to Farmers Inn in Sigel, Pennsylvania declaring its intent to sue the roadside zoo for maintaining animals in squalid conditions in violation of the Endangered Species Act and state wildlife protection laws.

This week the Animal Legal Defense Fund called on a federal court to rule that current plans for a U.S. border wall are illegal.