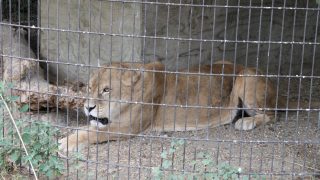 Federal Judge Orders Immediate Trial to Protect Endangered Lions at Iowa Zoo
Second ESA Lawsuit Brought Against Cricket Hollow Zoo by the Animal Legal Defense Fund
Contact: media@aldf.org
Cedar Rapids, IA — Today, the Animal Legal Defense Fund persuaded a federal judge to permit a veterinarian from the Wild Animal Sanctuary in Keenesburg, Colorado, to make an immediate inspection of two African lions at the Cricket Hollow Zoo in Manchester, Iowa.
The Animal Legal Defense Fund and five concerned Iowa residents have sued the zoo a second time under the federal Endangered Species Act (ESA), this time for harming and harassing African lions, which became federally protected only after the completion of the first trial.
The federal court in Cedar Rapids, Iowa, ordered this morning's hearing after reviewing video evidence recently obtained by a visitor in which one of the zoo's lions is thin, panting heavily, trembling, and unnaturally hunched. Pat Craig, director of The Wild Animal Sanctuary, indicated in a sworn affidavit he feared the lioness would not survive the summer without immediate veterinary intervention.
The court ordered the veterinary inspection against the wishes of the defendants, who requested instead to transfer their animals to another unaccredited roadside zoo very much like their own. In denying the defendants' request the court expressed anxiety about what might motivate the defendants' refusal to transfer their animals to a sanctuary.
In a highly unusual move, the court likewise scheduled trial to begin August 1, just a week and half from today, citing the extreme urgency of the situation.
"Our primary concern is for the health of the lions," says Animal Legal Defense Fund executive director Stephen Wells. "Due to our landmark ESA victory against Cricket Hollow Zoo in 2015, we are extremely optimistic that the lions will soon be out of danger."
Bears, lions, and other animals languish in roadside zoos across the country. Animals live in cruel conditions, confined to small cages without the enrichment they need to lead full, happy lives. Protect animals by boycotting roadside zoos.
Take Action
Related
The lawsuit alleges federally endangered and threatened animals such as the tigers, lions, and ring-tailed lemurs are receiving inadequate care at Tiger Creek

Thanks to Animal Legal Defense Fund supporters, a tiger named Nila, two lions — Buddy and Missa, two ring-tailed lemurs, a Mikado pheasant, a military macaw, and a blue-and-gold macaw will at last have access to species-appropriate habitats and enrichment.

The petition asserts animal relocation procedures must accompany USDA license revocation and termination proceedings