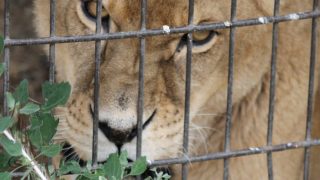 Animal Legal Defense Fund Scores First Victory in an Endangered Species Act Lawsuit on Behalf of Endangered Animals in Captivity
Sets Precedent for Captive Endangered Animals Around the Country
Contact: media@aldf.org
Manchester, IA — Today, the Animal Legal Defense Fund (ALDF), the nation's preeminent legal advocacy organization for animals, won the first major victory in an Endangered Species Act (ESA) lawsuit brought on behalf of endangered animals in captivity.
As a result, Animal Legal Defense Fund is now working to ensure that the four tigers and three lemurs who were the subject of the suit will be rehomed to reputable facilities that can meet their needs as endangered animals.
Judge John Stuart Scoles of the U.S. District Court for the Northern District of Iowa issued a 73-page order finding that the owners of a roadside zoo in Manchester, Iowa, had violated the Endangered Species Act by providing substandard care for their four tigers and three lemurs.
Relying on the testimony of plaintiffs' expert witnesses, hundreds of pages of U.S. Department of Agriculture inspection records, and countless admissions from the defendants themselves, the Court cited the defendants' failure to provide suitable living conditions and proper care for their endangered animals in ruling they had violated the Act.
The Court characterized these violations as "pervasive, long-standing, and ongoing," and concluded that the only way to prevent future violations would be to prohibit the defendants from keeping the animals. In addition, the Court prohibited the defendants from ever acquiring endangered animals again, without first proving an ability to care for them.
Animal Legal Defense Fund brought the lawsuit on behalf of five Iowa residents who had visited the zoo on many occasions and who were distressed about the poor health and welfare of the animals there. Animal Legal Defense Fund received support from Elisabeth Holmes, an attorney with Blue River Law in Eugene, Oregon.
"Today's groundbreaking decision creates a precedent for endangered animals living in captivity throughout the United States," said Stephen Wells, ALDF executive director. "Too many zoos, roadside zoos, and private owners keep endangered animals, who have complex biological, social, and intellectual needs, in inadequate and squalid conditions.
This is a major step in ensuring that we can move them into situations much better set up to meet their needs."
Animal Legal Defense Fund has several other Endangered Species Act lawsuits currently pending before federal courts, including a lawsuit on behalf of Lucky the elephant, who lives in isolation at the San Antonio Zoo in Texas, and Candy the chimpanzee, who lives in isolation at the Dixie Landin' amusement park in Baton Rouge, Louisiana.
Related
Proposed rule would maintain an unnecessarily complicated and confusing process for children to get access to plant-based milk

Recommendations aim to decrease risk of zoonotic disease spread, animal escapes and attacks, and psychological and physical harm to the animals

The bill helps end the rampant abuse of tigers and other big cats in captivity by banning private possession