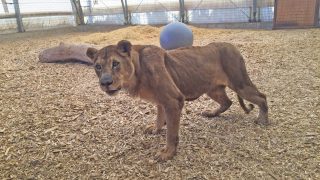 Animal Legal Defense Fund Uncovers Criminal Animal Cruelty at Roadside Zoo
Alleged Abusers Have Been Focus of Multiple Lawsuits
Contact: media@aldf.org
Des Moines, Iowa – The Animal Legal Defense Fund, the nation's preeminent legal advocacy organization for animals, has uncovered evidence of criminal animal cruelty at a roadside zoo in Delaware County.
The situation concerns the lioness Jonwah, who was transferred from the roadside zoo to a sanctuary in August 2016 as the result of an endangered species-based lawsuit. After thorough investigation into the lioness' health, the Animal Legal Defense Fund and a sanctuary veterinarian believe strongly the lion was a victim of criminal animal cruelty before being rescued.
In July 2016, the Animal Legal Defense Fund settled its second lawsuit against Cricket Hollow Animal Park, then known as Cricket Hollow Zoo. A federal judge ordered Cricket Hollow's owners, Pam and Tom Sellner, to permit a qualified veterinarian to examine two lions—Jonwah and Njjarra, and a term word="settlement"] followed shortly after the examination.
On August 1, the lions were transferred to the Wild Animal Sanctuary in Colorado. According to a veterinarian who conducted a thorough medical evaluation of Jonwah, her emaciation, including visible bones and vertebrae, was likely caused by extreme hunger and dehydration, which the Animal Legal Defense Fund believes violates Iowa's criminal animal neglect law.
In fact, due to the Sellners' failure to provide Jonwah with food and water as Iowa's cruelty law requires, the lioness resorted to eating the hay in her enclosure. The hay, meant as bedding and not adequately digestible by lions, caused an intestinal blockage so severe that Jonwah required emergency veterinary treatment, which saved her life. The Animal Legal Defense Fund has reached out to local law enforcement and urged them to conduct a thorough investigation of the case.
"Jonwah is in good hands now, but what happened to her at Cricket Hollow is clearly against the law," says Animal Legal Defense Fund executive director Stephen Wells. "The Animal Legal Defense Fund is hopeful that law enforcement will take this evidence seriously and hold Cricket Hollow Animal Park to the standards of Iowa law."
Related
Cows were killed in Madison, Brazos, and Robertson Counties, Texas.

Following the dismissal of Justice's case upheld on appeal, the Animal Legal Defense Fund continues to seek accountability under the law.

The lawsuit alleges federally endangered and threatened animals such as the tigers, lions, and ring-tailed lemurs are receiving inadequate care at Tiger Creek