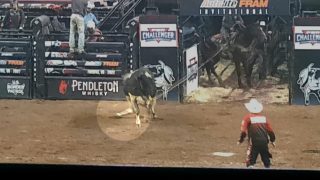 Petition: Ban Professional Bull Riders from State Owned Venues
Shocking video of bull with broken bones dragged from George Mason University EagleBank Arena
During a Professional Bull Riders Challenger Series event, a bull fell to the ground immediately, crushing his back right leg, after exploding from the chute with a rider on his back. Video captured the injured bull trying in vain to stand, appearing to further fracture the leg, before collapsing helplessly to the ground. The bull was then dragged from the arena by a rope tangled around his neck and legs.
The tragic incident occured at at George Mason University EagleBank Arena in Fairfax, Virginia and was captured on video. It is graphic and may not be appropriate for all audiences.
Sign the petition below urging inhumane events, like Professional Bull Riders traveling events, be banned from state and municipally owned venues.
Petition: Harming animals is not entertainment — and tax dollars shouldn't be used to subsidize it. Events involving animal cruelty and exploitation should be banned from state and municipally owned venues that are paid for and owned by taxpayers. The public overwhelmingly supports humane animal treatment and opposes cruelty to animals. Taxpayers should not be forced to subsidize, nor should the government endorse, inhumane activities such as Professional Bull Riders events and other exhibitions that involve abusing animals or training them to act in ways that are unnatural to them.
Related
Video shows a downed bull with a severely broken leg, struggling to get up, and then being dragged from EagleBank Arena during bull riding event

Animal group documents animal suffering, legal violations at Salinas Rodeo.