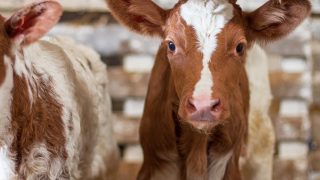 Salinas Rodeo Hides Animal Injuries in Violation of California Law
Animal Group Documents Animal Suffering, Legal Violations at Salinas Rodeo
For immediate release:
Contact:
media@aldf.org
Salinas, Calif. — The California Rodeo Salinas is scheduled to start on July 16, 2015 yet the rodeo refuses to change its illegal practice of hiding injuries to animals. In December 2014, the national nonprofit Animal Legal Defense Fund (ALDF) filed a lawsuit on behalf of the animal rights group Showing Animals Respect and Kindness (SHARK) against the rodeo for failing to report animal injuries to the state veterinary medical board, as required under California law. ALDF and SHARK accuse the defendants of significantly underreporting the number of animals injured at the California Rodeo Salinas, the largest rodeo in the state and one of the largest in the country.
For the last two years, SHARK has attended the California Rodeo Salinas and videotaped more than forty injuries to animals, including calves limping in pain after being dragged to the ground and a horse with a tennis ball-sized wound on his neck. Expert veterinary assessment of this footage confirms that these injuries required immediate veterinary care and should have been reported. But to mask the inherent dangerousness of rodeo events, California Rodeo Salinas has drastically and chronically underreported animal injuries. The rodeo reported only four out of the forty-one injuries to animals documented by SHARK.
"California law recognizes that rodeos endanger the animals who are forced to participate, which is why the law requires veterinarians to report animal injuries," said Stephen Wells, executive director of the Animal Legal Defense Fund. "We hope Californians will consider the pain and suffering of these animals and boycott the Rodeo."
Interview Opportunities:
Stephen Wells, Executive Director, Animal Legal Defense Fund
Matthew Liebman, Senior Attorney, Animal Legal Defense Fund
Steve Hindi, Founder, Showing Animals Respect and Kindness
Janet Enoch, Member, Showing Animals Respect and Kindness
Copies of the complaint and video footage are available by request.
Related
Cows were killed in Madison, Brazos, and Robertson Counties, Texas.

The U.S. Court of Appeals for the Fourth Circuit handed an important win to plaintiffs in a lawsuit challenging North Carolina's Ag-Gag law, ruling that undercover investigations and whistleblowing are considered newsgathering activities protected by the First Amendment.

Video shows a downed bull with a severely broken leg, struggling to get up, and then being dragged from EagleBank Arena during bull riding event