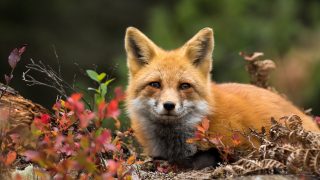 America's Top Ten Animal Defenders Stand Up For The Voiceless
Animal Protection Heroes to Be Honored During National Justice for Animals Week 2018
Contact:media@aldf.org
Cotati, CA — The Animal Legal Defense Fund, the nation's preeminent legal advocacy organization for animals, has chosen America's Top Ten Animal Defenders – the list of top prosecutors, law enforcement officials, lawmakers and others who champion the cause of animal crime victims honored during National Justice for Animals Week, Feb. 25 – March 3, 2018.
Each year, National Justice for Animals Week recognizes these individuals' outstanding contributions to the protection of animals, raises public awareness about animal abuse and advises advocates how to pass stronger laws and demand better enforcement for acts of animal cruelty.
The Animal Legal Defense Fund is also honoring two horses, Willow and Stormy, by naming them the mascots of National Justice for Animals Week 2018.
The horses were victims of severe neglect, both pregnant and severely malnourished when law enforcement found them. They were lucky to survive, but, thanks to the great work of the prosecutor and local rescuers, today Willow and Stormy are thriving, as are their foals. Their abuser is behind bars because the prosecutor knew how important it was to win justice for Willow, Stormy, and the other horses.
Each year countless animal victims endure criminal cruelty. Willow & Stormy remind us that with persistence, we can make sure more animal abusers are brought to justice.
America's Top Ten Animal Defenders include:
Jessica Rubin, director of legal practice program, University of Connecticut Law School. Professor Rubin was instrumental in creating Desmond's Law, which created the nation's first statutory animal advocate position in criminal cruelty cases. Professor Rubin is among the first attorneys approved to volunteer as an animal advocate.
Diana Urban, state representative, Connecticut. Rep. Urban sponsored Desmond's Law, which allows judges in criminal animal cruelty cases to appoint advocates for animal victims. The law honors the memory of Desmond, a shelter dog who was starved, beaten and strangled to death by his owner, who, despite having admitted his guilt upon arrest, was able to avoid jail time and have the crime left off his record after rehabilitation.
Tom Demmery, assistant chief of police, Hollywood, Florida. Ollie the pit bull was stabbed 50 times and left in a suitcase to die. Demmery treated the case with the seriousness it deserved, and instructed detectives to "treat this like a homicide." They found the abuser, who is now behind bars facing charges of animal cruelty.
Patrick Harrington, prosecutor, Tippecanoe County, Indiana. Recognizing the need to address the county's uptick in animal cruelty situations, Harrington assembled an animal advisory committee. The group includes a deputy prosecutor, animal control officers, veterinarians and local animal advocates – all working together toward the goal of bringing animal abusers to justice.
Dr. Martha Smith-Blackmore, Massachusetts. Dr. Smith-Blackmore is a veterinarian, public safety and animal advocate. She uses her expertise in veterinary forensics to assist law enforcement and prosecutors in animal cruelty cases throughout the United States. Her scientific contributions have been critical in countless cases, helping to ensure the animals' conditions are fully documented and animal abusers are brought to justice.
Richard Alloway, state senator, Pennsylvania. Senator Alloway co-sponsored Libre's Law, a 2017 update to Pennsylvania's animal cruelty laws. The new law strengthens protections for animals and allows legal punishments for animal cruelty to match the severity of the crime. Sen. Alloway advanced these needed changes in the wake of public support for Libre, a puppy who suffered such extreme neglect he only lived thanks to intensive veterinary care.
Todd Stephens, state representative, Pennsylvania. Representative Stephens co-sponsored Libre's Law, a much needed update to Pennsylvania's animal cruelty laws. The new law offers more appropriate penalties for animal cruelty crimes so that animal abusers are not let go with a slap on the wrist.
Earl Blumenauer, U.S. representative, Oregon. When the United States Department of Agriculture (USDA) abruptly eliminated public access to thousands of online records concerning enforcement of the Animal Welfare Act (the federal law regulating research labs, puppy mills, zoos, circuses and more), Rep. Blumenauer led the charge to urge the USDA to return the records to the USDA website. Long a champion for animals, Rep. Blumenauer co-chairs the Congressional Animal Protection Caucus.
Judge Susan Skinner, Bexar County, Texas. Judge Skinner recognized the importance of taking animal cruelty seriously, and decided to implement the first animal abuse docket in her county. By presiding over these cases she ensures that bringing justice to animal victims is not overlooked in Bexar County the way it is in many other jurisdictions nationwide.
Greg Allen, chief of police, El Paso, Texas. Chief Allen assembled El Paso's first animal cruelty investigations unit, responsible for handling cruelty cases and training other officers to better respond to calls about animal cruelty. A dedicated animal cruelty unit goes a long way toward securing justice for animals.
Related
Annual event raising awareness about crimes against animals to be held February 20–26, 2022.

Animal Legal Defense Fund recognizes animal protection heroes during National Justice for Animals Week
Since 1979, the Animal Legal Defense Fund has led the charge to win animals the legal protection they so desperately need—and deserve. Your generous gift will assure that we can continue to take on cases that advance the interests of animals.
Donate