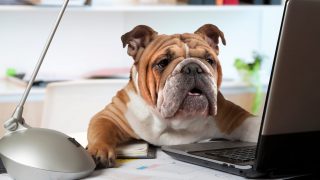 Animal Legal Defense Fund Names America's "Top Ten Animal Defenders" 2016
Law enforcement heroes from across the U.S. honored during National Justice for Animals Week 2016
Contact: media@aldf.org
Cotati, CA — The Animal Legal Defense Fund (ALDF), the nation's preeminent legal advocacy organization for animals, has announced America's Top Ten Animal Defenders, heroes for animals being honored during National Justice for Animals Week, February 21-27, 2016.
National Justice for Animals Week, an annual event, raises public awareness about animal abuse, how to report it, and how to work within your community to create stronger laws and ensure tough enforcement. The week also honors law enforcement, prosecutors, and legislators who make and enforce tough laws protecting animals.
The human heroes of 2016 include:
Oregon State Representative Brad Witt: Witt was the sponsor of the 2015 nuisance abatement bill, HB 2888. The statute gives citizens legal standing to file a lawsuit to stop ongoing criminal animal abuse. Oregonians no longer have to wait for law enforcement to work on a case, rather, they can file suit to stop the suffering of victimized animals immediately.
Judge Andrew Owens, Bradenton, FL: Judge Owens recognized that dogs who bite after being provoked should not necessarily be euthanized. He declared part of a state law requiring that any dog who causes severe injury to a human be automatically put down regardless of the circumstances "arbitrary and oppressive."
District Attorney Lisa Smittcamp, Deputy District Attorney Sydney Ricks, & Deputy District Attorney Lynette Gonzales, Fresno, CA: Smittcamp established a new Animal Cruelty Unit to pursue crimes against animals. Deputy District Attorneys Ricks & Gonzales volunteered to take on the extra work so that animal crimes would be prosecuted, even though they are assigned to different units. The Animal Cruelty Unit was officially formed in July 2015, and unit obtained its first conviction in November 2015.
Virginia Attorney General Mark R. Herring: Herring created the nation's first attorney general's Animal Law Unit. Staff attorneys work with local law enforcement and state agencies on issues involving animal welfare, animal fighting, or abuse. The team will be led by veteran Assistant Attorney General Michelle Welch, a Top Ten Animal Defender in 2013.
Queens District Attorney Richard A.amp; Brown & Nicoletta Caferri: Brown created New York City's first Animal Cruelty Prosecutions Unit which investigates and prosecutes animal cruelty crimes, and educates the public about how to prevent and detect animal abuse. Caferri, a veteran prosecutor, oversees the Unit.
State Attorney Dave Aronberg, Palm Beach County, FL: Aronberg personally prosecuted a neglect case in which a man deprived his pit bull named Bella of food and water for weeks, rendering the dog "skeletal." Bella could not stand or walk when she was discovered by law enforcement. The man was sentenced to nine months' jail time.
Director of Code Enforcement and Animal Control Jason Allswang, Clark County, NV: In addition to ensuring the vigorous prosecution of a number of serious animal cruelty cases, Allswang was instrumental to the passage of Clark County's first exotic animal ordinance. Nevada is one of only a few states with no statewide regulation of exotic animals kept as pets.
National Justice for Animals Week also honors four-legged heroes, like Baxter. Baxter is a four-year-old silky haired dachshund and the Animal Legal Defense Fund's National Justice for Animals Week 2016 mascot.
The Oregon Humane Society (OHS) rescued Baxter from an Oregon puppy mill two years ago, after which he became known only as Count 26 in the resulting animal cruelty case. When he went to his foster home, he was so matted and dirty that it wasn't clear what kind of dog he was. But Baxter, like all animals, is resilient and he's come a long way since. He's learned that people can be kind, loving, and fun. He revels in the comforts of home. He's a great example of how far a neglected animal can come with proper care and a little love!
Related
First ruling pertaining to recently enacted Big Cat Public Safety Act

Bill will reduce the risk of zoonotic disease transmission by phasing out mink farming and help operators transition out of the industry

Third denial to review first state-wide ban, starting in 2014