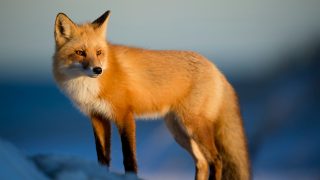 Animal Legal Defense Fund Honors America's "Top Ten Animal Defenders" 2017
Prosecutors and law enforcement officials recognized for their work on behalf of animals during National Justice for Animals Week 2017
Contact: media@aldf.org
Cotati, CA – The Animal Legal Defense Fund, the nation's preeminent legal advocacy organization for animals, has chosen America's Top Ten Animal Defenders, prosecutors and law enforcement officials honored during National Justice for Animals Week, February 26 – March 4, 2017.
Every year, National Justice for Animals Week recognizes these individuals' outstanding contributions to the protection of animals, raises public awareness about animal abuse, and advises advocates how to pass stronger laws and demand better enforcement.
The Animal Legal Defense Fund is also honoring a pit bull named Luke, by naming him the mascot of National Justice for Animals Week 2017. As a puppy, Luke's guardian allegedly threw him against a wall resulting in a painful shattered shoulder. The guardian was acquitted of charges but the prosecutor, Melissa Kalaus, Assistant District Attorney in Lycoming County, Pennsylvania, reached out to the Animal Legal Defense Fund to prevent him from regaining custody of Luke.
With the help of the Animal Legal Defense Fund, ADA Kalaus successfully employed an innovative legal strategy involving contraband forfeiture rules. ADA Kalaus is being honored as one this year's top ten animal defenders for her tremendous work for animals like Luke, who now lives happily in an adoptive home. Many other animals aren't as lucky, and Luke is an important reminder that creative legal strategies and advocacy saves lives.
Additional honorees include:
Hilary Bagley, Deputy District Attorney, Sacramento County, California:DDA Bagley tirelessly prosecuted a horrific cruelty case where a man killed a Chihuahua puppy, Angel Star, by setting her on fire after she was locked in a crate. The man was sentenced to nearly four years in prison. ALDF offered a reward in the case which helped lead to the suspect and ultimate conviction.
Amy Ferreira, Chief Deputy District Attorney, Clark County, Nevada: DDA Ferreira established SNARL (Southern Nevada Animal Response Liaison), a joint effort among the District Attorney's office, police and animal control agencies to coordinate animal cruelty investigations and combat animal cruelty in Clark County.
Tim Majek, Police Officer, Woodbridge, New Jersey: Officer Majek cemented his place as an animal hero after conducting multiple emergency animal rescues. In 2016, he risked his own safety to rescue two deer entangled in netting on two separate occasions. Prior to that, Officer Majek rescued a group of kittens as well as a duck and her ducklings from a storm sewer.
Jamie McManus, Assistant State Attorney, Orange-Osceola County, Florida: ASA McManus and her team spent two years successfully investigating and prosecuting a major dogfighting case, which resulted in the arrest of 26 people and the rescue of 33 animals. Thanks to ASA McManus's advocacy, the State Attorney's office formed an animal cruelty prosecution unit in 2016.
Jessica Milligan, Assistant District Attorney, Harris County, Texas: ADA Milligan prosecuted Brent Justice for animal cruelty, securing a 50-year sentence for filming depraved animal "crush" videos. ADA Milligan also instituted a humane education program for elementary schools called HOPE (Helping Our Pets Through Education).
Brian Orth, Police Officer, Tigard, Oregon: After being alerted to a Chihuahua locked in a hot car, Officer Orth was about to break open a window when the guardian arrived. Orth issued a citation for second-degree animal neglect and brought the dog, Marshmallow, to a mall security office to cool down and receive food and water.
Michael Ramos, District Attorney, San Bernardino County, California: District Attorney Ramos established an animal cruelty prosecution unit for San Bernardino County in April 2016 to accomplish the goal of investigating and prosecuting animal cruelty to the fullest extent of the law. The unit's first case resulted in a 16-year prison sentence for a man who killed a woman's puppy in order to control and intimidate her.
Mike Scott, Deputy, Ascension Parish, Louisiana: Deputy Mike Scott rescued a cat named "Bella" who was trapped in a garage door in December 2016. Deputy Scott worked with concerned neighbors to remove the upper frame molding and free the terrified cat.
Sherri Zack, Assistant U.S. Attorney, Southern District of Texas: AUSA Zack prosecuted Brent Justice in federal court for his creation of animal "crush" videos. Thanks to AUSA Zack's hard work and thorough preparation, Justice received a sentence at the top of the federal sentencing guidelines.
Partners in Protection program makes it easier than ever for members to help animals throughout the year. It simplifies the donation process for you by automatically charging the amount you specify to your credit card every month.
Join Now
Related
This action is for U.S. residents only.

The victory follows the passage of a factory farming law and efforts to curtail the construction of new mega dairies in the state

Lawsuit filed by the Animal Legal Defense Fund and The Good Food Institute asserts that the law imposes unclear and vague standards on plant-based meat producers
Since 1979, the Animal Legal Defense Fund has led the charge to win animals the legal protection they so desperately need—and deserve. Your generous gift will assure that we can continue to take on cases that advance the interests of animals.
Donate