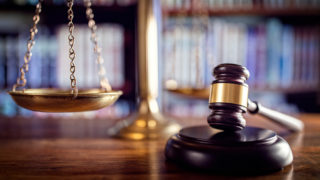 The Animal Legal Defense Fund provides these resources to help you learn how animal protection laws function within the legal system.
Animals and the Law
The field of animal law is complex. Use these articles as a guide to understand the fundamentals.
What You Can Do
Do you need help with a specific legal situation involving an animal? Our guides below are provided with that end in mind.
Other Resources

The Animal Legal Defense Fund encourages advocates to lobby for stronger animal protection laws in their local communities and can provide guidance to advocates interested in changing laws at the city and county level.

Innovators in the United States and around the world will soon bring to market new and transformative products that have the ability to reshape animal agriculture as we know it.

While it may seem like commonsense given how often we hear about animal cruelty crimes, the concept that animals can be crime victims is revolutionary within the legal system.

Every day, someone reaches out to us to ask, "Why isn't there a law against this?" The reality is that much animal suffering in the US is legal. With the support of countless advocates, the Animal Legal Defense Fund is working to enact stronger laws.

Knowing the law is an important part of planning. This is an oversight of the key federal law that affects companion animals in a natural disaster: The Pet Evacuation and Transportation Standards Act, better known as the PETS Act.

It is very disturbing when your local humane organizations are not addressing the needs of animals in your community in an effective and compassionate manner.

The Animal Legal Defense Fund has helped craft new guidelines that specifically validate enforceable trusts for nonhuman animals.

It can be disturbing — and heartbreaking — to witness an act of animal cruelty. Whether it be an acute act of violence or chronic neglect, find out what you can do when you witness animal cruelty.
Since 1979, the Animal Legal Defense Fund has been the leader in the fight to win animals the legal protection they so desperately need—and deserve. Your generous support is vital to our continued success.
FIND OUT MORE