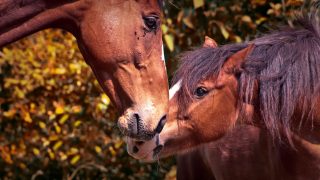 Victory for Devil's Garden Wild Horses, Following Lawsuit
Animal Legal Defense Fund and American Wild Horse Campaign continue work to ensure wild horses' safety
Contact: media@aldf.org
SAN FRANCISCO: Today the Animal Legal Defense Fund, the American Wild Horse Campaign, and local advocate Carla Bowers, are dismissing a high-profile lawsuit against the U.S. Forest Service (Forest Service) over the federal government's plan to sell wild horses captured from the Devil's Garden Wild Horse Territory in northeast California's Modoc National Forest for slaughter.
The dismissal comes after the passage of a 2019 omnibus appropriations package, funding federal agencies through 2020, which — in response to public outcry over the government's mistreatment of wild horses, as exposed through this lawsuit — included language for the first time ever prohibiting the U.S. Forest Service from killing or sending healthy horses or burros to slaughter.
"We're pleased that our legal action blocked the Forest Service from selling federally-protected wild horses in California for slaughter and gave Congress time to act definitively to shut down this lethal option that Americans strongly oppose," said Suzanne Roy, Executive Director of the American Wild Horse Campaign.
"This litigation achieved its purpose by avoiding the sale of Devil's Garden wild horses for slaughter, but also importantly set to stage for the congressional prohibition against sales of wild horses for slaughter by the Forest Service in any national forest," said Animal Legal Defense Fund Executive Director Stephen Wells. "Government agencies like the Forest Service have a responsibility to comply with animal protection laws and we will continue to challenge any attempts to circumvent those laws, which are overwhelmingly supported by the public."
The slaughter ban was requested by Senator Feinstein, U.S. Reps. Raul Grijalva and Dina Titus, as well as by 64 other members of Congress and 22 members of the California State Legislature and is expected to be included in future appropriations bills, including legislation currently under consideration to fund the government in Fiscal Year 2021.
This lawsuit was filed in 2018, alleging the proposed plan to offer horses for sale without limitations violated the federal Wild Free-Roaming Horses and Burros Act, Administrative Procedure Act, and National Environmental Policy Act, as well as California Penal Code section 598c, a state law that makes the slaughter and export of horses for human consumption a felony. The plan contradicted long-standing policy for the Forest Service, which manages the Modoc National Forest.
While it is illegal to slaughter horses in the United States, it's estimated that every year more than 75,000 horses, both wild and domestic, are exported from the United States to slaughterhouses in Mexico and Canada that do not have these legal restrictions. The butchered horses may then be sold and shipped for human consumption.
The wild horses are rounded up from their home in Devil's Garden for the benefit of ranchers who lease public land in the mustangs' habitat for private cattle grazing. The ranchers pay grazing fees that are a fraction of market rate, thanks to steep taxpayer subsidies.
The groups noted that while 80 percent of Americans support protecting wild horses on public lands, only 29 percent want public lands to be available for commercial livestock grazing.
The Animal Legal Defense Fund and American Wild Horse Campaign will continue to monitor the situation and use all tools at the organizations' disposal to protect wild horses in Devil's Garden and elsewhere throughout the country.
The Animal Legal Defense Fund and American Wild Horse Campaign were represented by the public interest law firm Meyer Glitzenstein & Eubanks LLP, and more recently its successor firm Eubanks & Associates, LLC.
For more information, visit aldf.org.
Related
Edie Falco, Marisa Tomei, Kate Mara, and more join the Animal Legal Defense Fund in calling upon the New York City Council to ban horse-drawn carriages in the city.

Following the dismissal of Justice's case upheld on appeal, the Animal Legal Defense Fund continues to seek accountability under the law.

The new poll showing overwhelming support for a horse-drawn carriage ban follows a viral video of an elderly 28 to 30-year-old horse named Ryder collapsing on a New York City street