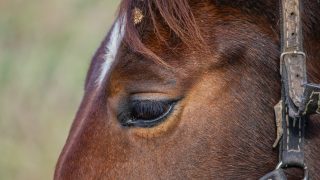 Amicus Briefs Filed Urging Oregon Supreme Court to Hear Lawsuit on Behalf of Abused Horse
The amicus briefs from notable experts including Harvard University's Laurence H. Tribe filed in support of neglected horse's lawsuit against his former abuser
Contact: media@aldf.org
SALEM, Ore. — Two amicus curiae ("friend of the court") briefs have been filed in support of a groundbreaking lawsuit on behalf of an animal cruelty victim named Justice. In December 2022, the Animal Legal Defense Fund petitioned the Oregon Supreme Court to review an Oregon Court of Appeals opinion affirming the dismissal of a lawsuit filed against Justice's abuser, Gwendelyn Vercher, seeking to recover the costs of his care which are a direct result of criminal neglect. The petition with the Oregon Supreme Court contends that animal cruelty victims like Justice have legal rights under Oregon's anticruelty law with standing to sue their abuser for damages caused by the abuse.
An amicus authored by an assortment of legal scholars including Laurence H. Tribe, professor at Harvard law; Visa Kurki, associate professor of jurisprudence at the University of Helsinki; Saskia Stucki, senior research fellow at the Max Planck Institute for Comparative Public Law and International Law; and Joe Wills, lecturer at University of Leicester, arguing that "non-human animals have numerous legal rights under Oregon and federal law" and "there is a broad consensus among jurists that entities with legal rights are legal persons."
A second amicus brief submitted by international animal law scholars led by Rajesh K. Reddy, director of the Animal Law Program at Lewis & Clark Law School, asks the Oregon Supreme Court to hear Justice's case "to ensure that jurisprudence in the U.S. develops in concert with the fundamental principles of liberty and fairness" that have led to animals being recognized as legal persons abroad in Argentina, Ecuador and Colombia. Notably, the international brief is signed by Luis Domingo Gomez Maldonado, the Colombian attorney responsible for the lawsuit on behalf of the hippos of the Magdalena River to prevent the Colombian government from imposing or allowing their deaths. The hippos are descendants of the original four hippos imported illegally by Pablo Escobar for his personal menagerie. During the Colombian proceedings, the Animal Legal Defense Fund served as U.S. counsel for the hippos collecting affidavits from wildlife experts who live in Ohio.
"Justice deserves an appropriate remedy by the court as any victim of abuse should have," says Animal Legal Defense Fund Executive Director Stephen Wells. "We are honored to receive support from experts from such a diverse range of disciplines to help ensure Justice's case is considered by Oregon's highest court as we hope to continue proceedings on his behalf."
The Oregon legislature and courts have been leaders in recognizing that animals are sentient beings who occupy a unique position in the law. Oregon courts, for example, have already recognized that animals qualify as individual "victims" for sentencing purposes in criminal animal cruelty cases. As a "sentient being," and a "victim" who suffered horrific pain, stress, and fear, Justice now deserves his day in court.
Additional signers of the legal scholars amicus include Kristen Stilt, professor of law at Harvard Law School; Angela Fernandez, professor and faculty of law and department of history at the University of Toronto; Colin Dayan, Robert Penn Warren professor in the humanities and professor of law at Vanderbilt University; Maneesha Deckha, professor and Lansdowne chair in law at the University of Victoria; Jessica Eisen, assistant professor at the University of Alberta Faculty of Law; Raffael Fasel, teaching bye-fellow and director of studies in law at Jesus College; David Favre, professor of law at Michigan State University College of Law; Dr. Joshua Jowitt, lecturer in law at Newcastle University; Christine M. Korsgaard, Arthur Kingsley Porter research professor of philosophy at Harvard University; Matthew H. Kramer, professor of legal and political philosophy at Cambridge University; Joan Schaffner, associate professor of law at George Washington University Law School; and Jeff Sebo, clinical associate professor of environmental studies at New York University.
Additional signers of the international animal law experts include; Macarena Montes Franceschini, attorney and doctoral candidate at the Universitat Pompeu Fabra; Vanessa Gischkow Garbini, visiting fellow at Harvard Law School; Nick James, executive dean of the faculty of law at Bond University; Christine Parker, professor of law at Melbourne Law School and The University of Melbourne; and Sophie Riley, associate professor in the faculty of law at the University of Technology Sydney.
Justice's abuser pled guilty to criminal animal neglect in 2017. The lawsuit seeks damages for Justice's care since that time. Any funds awarded to Justice through the lawsuit would be placed in a legal trust established exclusively to provide for his wellbeing.
The Animal Legal Defense Fund filed the appeal in January 2019 after Washington County Circuit Court Judge John Knowles dismissed the lawsuit, holding that non-human animals lack legal standing.
Justice was cruelly neglected for months and endured tremendous pain and suffering. At the time of his rescue, he was extremely emaciated and suffered from frostbite, lice, and rain rot.
Justice was relinquished to Sound Equine Options, an Oregon nonprofit horse rescue and rehabilitation organization.
The Animal Legal Defense Fund thanks Matthew Liebman of the University of San Francisco's Justice for Animals Program, Sarah Hanneken, Matt Hamity, Thomas Bode and Aly Sneider from Larkins Vacura Kayser LLP for their representation of Justice in this case.
Join the Animal Legal Defense Fund's email list to stay up to date on lawsuits, legislation, and regulations affecting animals.
Sign Up Now
Related
Lawsuit sheds light on the need to recognize legal rights for animal cruelty victims.

Neglected horse sued former abuser for damages caused by animal cruelty

Edie Falco, Marisa Tomei, Kate Mara, and more join the Animal Legal Defense Fund in calling upon the New York City Council to ban horse-drawn carriages in the city.