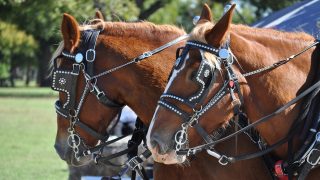 Joaquin Phoenix, Billie Eilish, Hilary Swank, and 22 Additional Celebrities Urge the New York City Council to Ban Horse and Carriage Rides
Edie Falco, Marisa Tomei, Kate Mara, and more join the Animal Legal Defense Fund in calling for an end to this cruel industry
Contact: media@aldf.org
NEW YORK — Actors Rooney and Kate Mara, Sarah Silverman, Ricky Gervais, and other celebrities join the Animal Legal Defense Fund in an open letter calling upon the New York City Council to ban horse-drawn carriages in the city. Momentum continues to mount for a legislative remedy following a viral video of an elderly 28 to 30-year-old horse named Ryder collapsing on a New York City street during the heat of summer on August 10, 2022. A poll conducted by John Zogby Strategies, and released by Voters for Animal Rights, after the incident found 71 percent of New York City voters are in favor of a ban proposed by over a dozen City Council members.
The letter notes, "The now-viral video of Ryder on a New York City street is heartbreaking, infuriating, and disturbing. Ryder, an elderly, emaciated horse, collapsed on 9th Avenue while pulling a carriage. The world bore witness as the carriage driver tried to force Ryder to his feet, while he could barely lift his head. The video is hard to watch for good reason — this is not the way animals should be treated."
Celebrities signing onto the letter include: Maggie Baird, Geezer Butler, Kaley Cuoco, Noah Cyrus, Whitney Cummings, Billie Eilish, Edie Falco, Finneas, Ricky Gervais, Joan Jett, Kenny Laguna, Riley Keough, Kesha, Kate Mara, Rooney Mara, Joaquin Phoenix, Christian Serratos, Sarah Silverman, Sadie Sink, Christian Siriano, Hilary Swank, Justin Theroux, Marisa Tomei, Until The Ribbon Breaks, and Christopher Walken.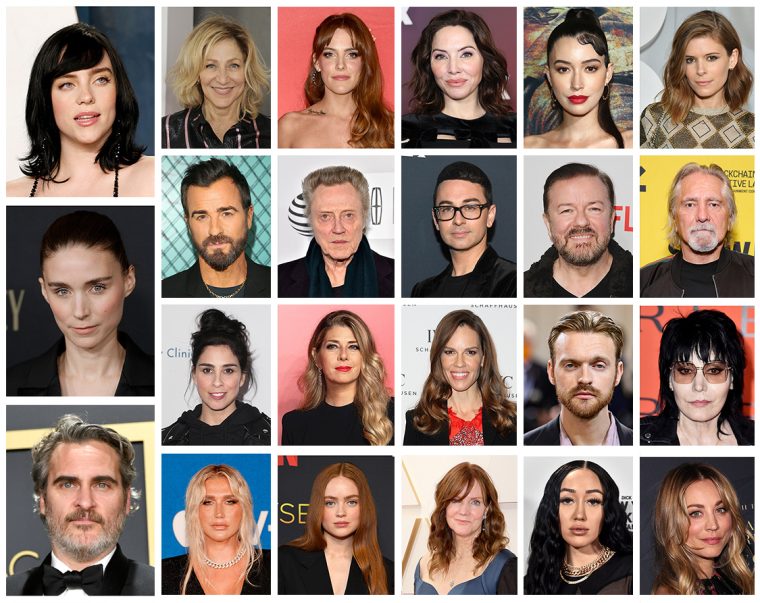 "Ryder's suffering is impossible to deny. His condition of emaciation, dehydration, and sheer exhaustion were not the result of a day, a week, or a month of ill treatment but rather a prolonged period of neglect, forced to pull carts on crowded city streets," says Animal Legal Defense Fund Executive Director Stephen Wells. "We have reached a tipping point and it is time for the New York City Council to carry out the will of the voters and institute a ban."
On July 14, 2022, City Councilman Robert Holden (D-Queens) introduced legislation, Intro 573, that would end the horse-drawn carriage industry in New York City by prohibiting the issuance of new licenses and replace the carriages with electric options. The electric carriages alternative provides a safe and responsible option for rides within Central Park and certain areas of Manhattan. The bill currently has 14 sponsors, including city council members Christopher Marte, Keith Powers, Erik D. Bottcher, and Tiffany Cabán.
"I appreciate all of the concerned advocates, celebrities and non-celebrities alike, who are speaking up in favor of my bill to transition to clean, humane, horseless carriages and give carriage drivers better paying jobs," says Councilman Robert Holden. "These abused horses can't speak for themselves, so we are their voice. New York City has always been at the forefront of innovation and culture, but we are lagging behind when it comes to these poor horses. It's time for us to be a model for other cities to follow. Intro 573 will be passed, with the help of animal lovers around the world."
The legislative proposal is the latest attempt to offer some relief to horses forced to work in the carriage industry following the Carriage Horse Heat Relief Bill that passed in 2019. Despite attempts to strengthen protections for horses working under dangerous conditions presented by traffic and weather, regulation is not enough to compel standards of care and protect them from being forced to work in the terrible conditions they continue to endure.
The letter continues, "Ryder is an individual, but his situation is not unique. Media stories, smartphones, and police reports have documented traumatized horses running through traffic and other carriage-related incidents too numerous to count, spanning decades. Tragic outcomes for horses haunt the New York City's history, as well as other cities across the country. Horses, carriage passengers, pedestrians, cyclists, and others are put at risk by this cruel and reckless industry. We say: No more."
The letter goes on to call on New York City to set an example for other cities to follow. Several cities — including Salt Lake City, Chicago, Camden, Treasure Island, Pompano Beach, Palm Beach, Key West, and Biloxi — have already banned horse-drawn carriages.
Join the Animal Legal Defense Fund's email list to stay up to date on lawsuits, legislation, and regulations affecting animals.
Sign Up Now
Related
Lawsuit sheds light on the need to recognize legal rights for animal cruelty victims.

The amicus briefs from notable experts including Harvard University's Laurence H. Tribe filed in support of neglected horse's lawsuit against his former abuser

Neglected horse sued former abuser for damages caused by animal cruelty