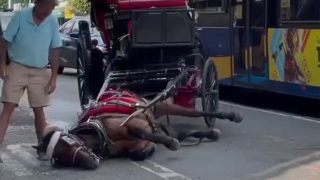 Petition: Stop Horses from Suffering for NYC's Carriage Industry
Sign to demand a horse-drawn carriage ban following the collapse of a horse named Ryder.
Time and again, horses have suffered and died in New York City's notoriously inhumane horse-drawn carriage industry.
Most recently, an elderly, emaciated horse named Ryder collapsed on a Manhattan street in August. Witnesses even reported seeing the carriage driver abusing Ryder as the horse lay helpless on the ground. A quick-thinking bystander caught the incident on video, and the resulting news reports shocked and outraged animal advocates in New York and beyond.
This is more than a case of overdriving a horse to the point of collapse on one particular day, but rather a longer history of neglect and cruelty. It's long past time for an end to this dangerous and inhumane industry. Join Rooney Mara, the Animal Legal Defense Fund, and a growing list of other celebrity supporters in calling for a ban on horse-drawn carriages in New York City!
Additional celebrities signing on to the letter include Maggie Baird, Geezer Butler, Kaley Cuoco, Whitney Cummings, Noah Cyrus, Billie Eilish, Edie Falco, Finneas, Ricky Gervais, Joan Jett, Kenny Laguna, Riley Keough, Kesha, Kate Mara, Joaquin Phoenix, Christian Serratos, Sarah Silverman, Sadie Sink, Christian Siriano, Hilary Swank, Justin Theroux, Marisa Tomei, Until The Ribbon Breaks, and Christopher Walken.
Add your name below to sign the petition to the New York City Council.
By signing your name, you are being added to the following letter of support:
To the New York City Council;
We are adding our names to the millions of New Yorkers, and people around the country, who support a ban on the cruel horse-drawn carriage industry.
The now-viral video of an elderly, emaciated horse named Ryder on a New York City street is heartbreaking, infuriating, and disturbing. Ryder collapsed on 9th Avenue while pulling a carriage — and the world bore witness as the carriage driver tried to force him to his feet, while he could barely lift his head. The video is hard to watch for good reason — this is not the way animals should be treated.
Ryder is an individual, but his story is not unique. Media stories, smartphone videos, and police reports have documented traumatized horses running through traffic and other carriage-related incidents too numerous to count, spanning decades. Tragic outcomes for horses haunt New York City's history, as well as other cities across the country. Horses, carriage passengers, pedestrians, cyclists, and others are put at risk by this cruel and reckless industry. We say: No more.
Please make Ryder the last horse to suffer in New York City — and set a standard for other cities to follow.
Ban horse-drawn carriages.
[Signature]
Join the Animal Legal Defense Fund's email list to stay up to date on lawsuits, legislation, and regulations affecting animals.
Sign Up Now
Related
Lawsuit sheds light on the need to recognize legal rights for animal cruelty victims.

The amicus briefs from notable experts including Harvard University's Laurence H. Tribe filed in support of neglected horse's lawsuit against his former abuser

Neglected horse sued former abuser for damages caused by animal cruelty