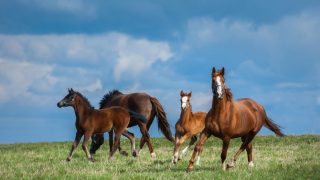 Advocates Urge Court to Immediately Stop Army's Illegal Seizure of Horses, Slaughter Plan
Pegasus Equine Guardian Association files preliminary injunction motion to protect Ft. Polk horses
Contact: media@aldf.org
New Orleans, LA — This week animal advocates filed a motion for a preliminary injunction asking a federal court to take immediate steps to stop the Army's illegal roundup and sale of Louisiana's wild horses pending their lawsuit's resolution.
In 2016, Pegasus Equine Guardian Association (PEGA), led by attorneys with the Tulane Environmental Law Clinic, sued the Army over plans to evict roughly 700 wild horses from a western Louisiana Army base and national forest areas that are used in trainings.
The lawsuit alleges the Army violated laws, including the National Environmental Policy Act and the National Historic Preservation Act, by asserting it did not need to prepare an environmental impact statement for the removal of the horses. The Army also omitted other requirements, such as ensuring nonprofit organizations could put groups of horses up for adoption, rather than the horses being sold for slaughter.
The plaintiffs filed today's motion in an attempt to restrict the Army from moving forward with its plan, pending the lawsuit's resolution. The Army has recently ramped up its efforts to evict the horses, leading to speculation it will try to moot the lawsuit by completing its plan before the issues can he heard.
For decades the horses have been living on, and part of, historic Fort Polk and Kisatchie National Forest areas. Horses have ranged free on this property long before Fort Polk existed. Animal advocates fear that the Army's current, controversial plan will result in the slaughter of the majority — if not all — the wild horses due to the difficulty in rehoming horses who have been wild for generations.
"There are several unique herds of truly wild horses in Louisiana, that are of value both environmentally and culturally, especially to the inhabitants of the area, but also to all Americans," says Amy Hanchey of Pegasus Equine Guardian Association. "The horses should be preserved and protected. Regardless if they have been abandoned, generationally wild or otherwise wild, their welfare is at stake."
The Animal Legal Defense Fund works with law schools across the country to expand their curriculum of animal law related classes and clinics. The organization's expert animal law attorneys provide support and advice to programs, such as Tulane Environmental Law Clinic.
Related
The amicus briefs from notable experts including Harvard University's Laurence H. Tribe filed in support of neglected horse's lawsuit against his former abuser

Neglected horse sued former abuser for damages caused by animal cruelty

Edie Falco, Marisa Tomei, Kate Mara, and more join the Animal Legal Defense Fund in calling upon the New York City Council to ban horse-drawn carriages in the city.