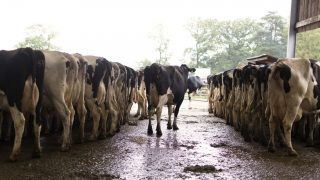 NEPA Carveout for Medium-Sized CAFOs Struck Down by District Court
Animal Legal Defense Fund lawsuit leads to rule revocation excepting medium-sized factory farms from environmental review before receiving federal funding
WASHINGTON, DC – On April 4, 2023, in a victory for animal protection groups and public health, the United States District Court for the District of Columbia ruled that the United States Department of Agriculture's Farm Service Agency (FSA) must assess the environmental impact of medium-sized concentrated animal feeding operations (CAFOs) before extending loans to them.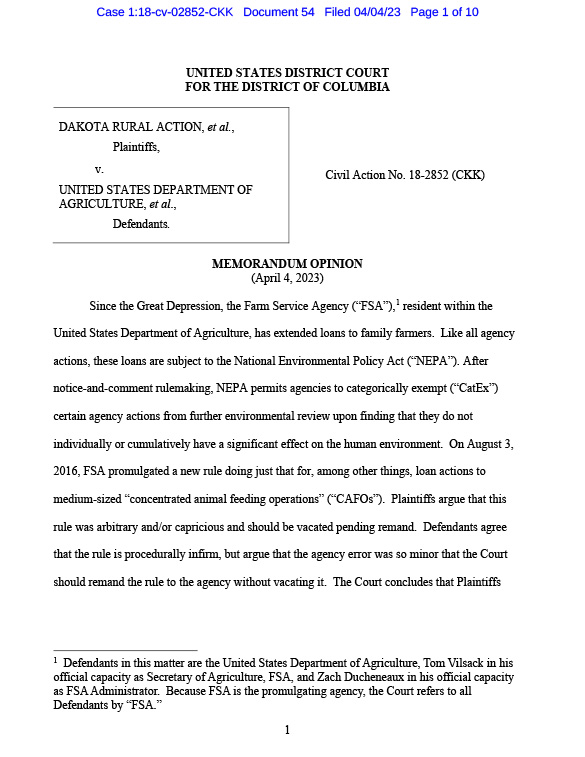 April 4, 2023 opinion
Dakota Rural Action, et al v. United States Department of Agriculture, et al
In 2016, the FSA passed a rule exempting medium-sized CAFOs, also known as factory farms, from the environmental impact review and community feedback process typically required before offering taxpayer-subsidized loans to such facilities. This carveout harmed communities living near such "medium-sized" CAFOs, which are industrial animal agriculture facilities that can confine up to 125,000 chickens, 55,000 turkeys, 2,500 pigs, 1,000 beef cattle, or 700 dairy cows, subjecting neighboring communities to pervasive odors, noxious gasses, polluted waterways, and more.
In 2019, a coalition of groups sued the U.S. Department of Agriculture's (USDA) for failing to provide adequate public notice or evidence-based justification for the exemption. Thus, the groups argued that USDA violated the National Environmental Policy Act and Administrative Procedure Act.
Today, the district court sided with the community groups, ruling that USDA arbitrarily exempted major polluters from government oversight, and that medium-sized CAFOs must be subjected to the same oversight as large ones before receiving public funds.
"Industrial animal agriculture is one of the worst polluting industries in the U.S., and no recipient of government subsidies should be exempt from environmental reviews which are designed to protect surrounding communities and public interests," says Animal Legal Defense Fund Managing Attorney Daniel Waltz. "The Animal Legal Defense Fund will continue to challenge the federal government when it puts industry interests ahead of public health, the environment, and animal protection."
In the case, USDA admitted that the agency failed to provide notice and comment before creating the exemption but asked the court to overlook the error. During the five years that the case has been pending, the agency failed to offer mechanisms for community feedback or evidence that medium-sized CAFOs lack environmental impact.
Animal Legal Defense Fund, Association of Irritated Residents, Citizens Action Coalition, Iowa Citizens for Community Improvement, the Institute for Agriculture and Trade Policy, and Food & Water Watch are represented by the Animal Legal Defense Fund, Public Justice, and Food & Water Watch. Dakota Rural Action and White River Waterkeeper are represented by Public Justice and Food & Water Watch.
Join the Animal Legal Defense Fund's email list to stay up to date on lawsuits, legislation, and regulations affecting animals.
Sign Up Now
Related
Animal Legal Defense Fund and Phoenix partner to expose dangers of this emerging industry gaining traction with considerable investments from government entities

Advocates continue to fight law that penalizes whistleblowing on factory farms, other businesses in violation of the First Amendment

Animal Legal Defense Fund-led coalition wins major victory for animal protection, food and worker safety, and the First Amendment