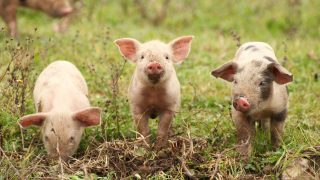 Vermont Law School's Vegan Thanksgiving
Garlic mashed potatoes and tofu turkey for 200 people?  No problem!
During the cold and dark pre-exam stress period, when the typical Vermont Law School student's diet has been reduced to ramen noodles and frozen burritos, its student chapter is preparing what has become a school tradition: Vegan Thanksgiving. Now entering its 8th year, the Vegan Thanksgiving features non-traditional Thanksgiving menu alternatives–with a little education on the side. 
Last year, the Animal Legal Defense Fund Student Chapter enjoyed record attendance, serving over 200 students, professors and staff. Partial funding was provided by Animal Legal Defense Fund, which awarded the VLS chapter a generous project grant to feed the crowd.
The patron saint of the Animal Legal Defense Fund Student Chapter Thanksgiving is Shirley Jefferson, Associate Dean of Student Affairs. "Dean J" remembers the early Animal Legal Defense Fund student Chapter days at Vermont Law School, when a few brave student activists attempted to spread the word about the horrors of factory farming.
Despite its reputation as one of the best environmental law schools in the nation, the animal rights movement was slow to catch on. Dean J's emotional and financial support has been unwavering. Said the Dean, "Animal welfare issues are too important to ignore. I believe in this group!"
Today, the VLS Animal Legal Defense Fund Student Chapter chapter is active and influential, making its presence known both on and off campus. Although the chapter focuses on a variety of animal law issues, recently its most visible efforts have been educating the student body about the personal and global benefits of an animal-free diet.
This fall, the school cafeteria, which strives to offer non-meat alternatives, began posting the ingredients of its soups, entrees and salad bar offerings. When possible these ingredients are purchased locally, allowing VLS to give back to local farmers. Last year, responding to Animal Legal Defense Fund Student Chapter's encouragement, the school adopted a cage-free egg policy.
"You don't need to be vegetarian or vegan to join Animal Legal Defense Fund Student Chapter," says Emily Lewis, co-chair of Vermont Law School's Animal Legal Defense Fund Student Chapter. "All you need is a love of animals and a desire to improve their lives through our legal system." Lydia Fiedler, also co-chair, sees this event as an awareness opportunity with fringe benefits: "So much about animal law is sad, even depressing.
This is a chance to share the upside of animal activism: great food without the guilt!" Lewis and Fiedler welcome questions from other chapters about how to make delicious vegan dishes in bulk–and even how to make peeling 50 pounds of potatoes fun!
This spotlight was submitted by Pamela Vesilind, former co-chair of the Vermont Law School Animal Legal Defense Fund Student Chapter.
Related
These awards celebrate chapters that have shown incredible efforts in advancing animal law and advocating for animals through original projects and initiatives. Animal Legal Defense Fund Student Chapters are a vital part of the growing animal law movement.