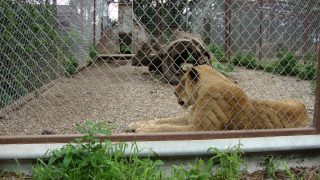 USDA Must Defend Reissuance of License to Law-Violating Roadside Zoo, Court Says
Animal Legal Defense Fund scores significant victory against USDA rubberstamp license renewal
Contact: media@aldf.org
Des Moines, Iowa – In a victory for animal protection oversight, the U.S. Court of Appeals for the District of Columbia ruled that the U.S. Department of Agriculture (USDA) cannot "arbitrarily and capriciously" renew an exhibitor license to a roadside zoo it knows is in violation of the Animal Welfare Act (AWA). The Animal Legal Defense Fund's lawsuit against the USDA is being sent back to U.S. District Court, overturning an earlier dismissal of the lawsuit.
The Animal Legal Defense Fund sued the USDA in 2014 for its renewal of an animal exhibitor license to Cricket Hollow Animal Park (formerly known as Cricket Hollow Zoo), a roadside zoo in Iowa. The zoo was issued 11 violations by the agency the day its license was renewed.
In 2015, USDA reissued the license again, despite the fact that according to the USDA's own inspection reports, it had cited the facility for over 100 violations in the prior five years. Citations included inadequate staffing, unsanitary facilities, and poor veterinary care.
"It is obvious that licensees cannot be trusted to police themselves, and it is the responsibility of the USDA to ensure compliance with the AWA," says Animal Legal Defense Fund executive director Stephen Wells. "To receive an exhibitor's license, a facility must demonstrate it complies with the AWA—and the USDA cannot disregard compliance problems that it knows exist."
The case will now proceed back to the U.S. District Court for the District of Columbia. The Animal Legal Defense Fund looks forward to demonstrating that given the "smoking gun" of an obvious history of violations and noncompliance with the AWA by Cricket Hollow Animal Park, the USDA's renewal of its exhibitor license was in fact arbitrary and capricious under the Administrative Procedure Act.
The USDA is currently taking comments to reconsider its rubberstamping license renewal policy. The Animal Legal Defense Fund will be submitting comments, due October 23, 2017.
The Animal Legal Defense Fund previously won two lawsuits against Cricket Hollow Animal Park, in 2015 under the Endangered Species Act—removing four tigers and three lemurs from the zoo, and again in 2016, which lead to the removal of two endangered African lions.
Related
Animal Legal Defense Fund moves for contempt order against Cricket Hollow Zoo and owners who removed animals before rescue in violation of court order

Media invited to press briefing after multiple groups work together to rescue animals after court ruling orders their immediate removal from Cricket Hollow Zoo

Animal Legal Defense Fund wins lawsuit against Iowa roadside zoo, owners prohibited from obtaining or owning animals
Bears, lions, and other animals languish in roadside zoos across the country. Animals live in cruel conditions, confined to small cages without the enrichment they need to lead full, happy lives. Protect animals by boycotting roadside zoos.
Take Action