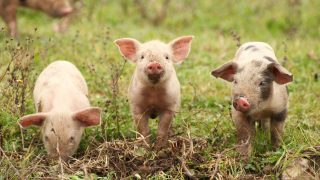 University of Florida: Volunteering at "Rooterville"
The University of Florida's Animal Legal Defense Fund Student Chapter, which calls itself the Animal Law Association (ALA), is growing. After a short while with minimal activity, ALA is now back in high gear. In particular, ALA has been sending members to animal law related conferences, providing opportunities where members take part in volunteer activities that benefit the animal community, hosting high caliber speakers like Julie Lewin, founder of the National Institute for Animal Advocacy, and working on a cage-free egg campaign with great success.
Recently, members took part in a large-scale volunteer event at Rooterville, a local pot-bellied pig sanctuary. Students spent the day working with others from different organizations and colleges doing facility maintenance, assisting with inoculations, and the favorite chore of the
students and the pigs, petting and brushing.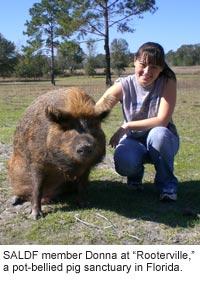 The sanctuary cares for over one hundred animals that arrived with mostly similar stories of abandonment and neglect. The largest resident is Stella, a former farm pig who had the good fortune of falling off a truck on the way to slaughter. A concerned homeowner found the pig wandering his yard and contacted the sanctuary for assistance. A refreshing story indeed! The day was rewarding for all involved and the chapter looks forward to a continued relationship with the sanctuary
and many more volunteer opportunities in the future.
For budgetary reasons, the University of Florida Law School made the decision last year to no longer offer the "Animal Rights and the Law" seminar which was taught by a local lifelong animal advocate. Because of this void in curriculum, sending interested students to conferences and bringing speakers to present has been critical to the chapter's success.
This month, ALA will host Julie Lewin who will speak on using the power of numbers to advocate for animals. Julie is the author of Get Political For Animals and Win the Laws They Need.
ALA has spread the word of this event to animal groups and advocates around Florida and RSVPs have come from as far as Tampa, which is over a two hour drive from their campus.
With assistance from a project grant from the Animal Legal Defense Fund, ALA has hired a local vegan chef to create a fantastic lunch for all the attendees. The chapter is also in discussion with Chris Green, an expert on veterinary malpractice damages, and Gene Baur, the founder of Farm Sanctuary, to speak on campus.
The chapter has been fortunate to have opportunities to send students to conferences all around the country, including Animal Legal Defense Fund's Future of Animal Law Conference at Harvard last spring, and the Annual Animal Law Conference at Lewis and Clark University this past October. Members keep their eyes open for enriching events such as these where students can learn more about animal law and network with those on the front lines applying their skills everyday for the benefit of animals.
About a year ago, Charles King, the President of ALA, initiated a dialogue with the Humane Society of the United States (HSUS) to develop a strategy to make the University of Florida one of a continually growing list of schools that use eggs produced in cage-free environments. The chapter then met with the dining services corporation in charge of procuring food for students to convey and discuss the benefits associated with such a move.
A large newspaper publication also published an article supporting the switch with facts about the cruel nature of battery cages and the swell of businesses and highly recognized universities that have already begun using cage-free eggs.
The University of Florida has an active undergraduate animal activist organization that ALA collaborates with. Fortunately, one of their members was elected to a seat on the Campus Dining Advisory Committee, comprised of students and faculty, which addresses anything and everything relating to food concerns at the University. When all was said and done, the University's dining services agreed to use only cage-free eggs in a large portion of the dining facilities on campus.
ALA was ecstatic to win such a victory. A school the size of the University of Florida purchases an incredible amount of egg products and this advancement will improve the lives of thousands of chickens.
Although members are constantly mindful that so much more needs to be done for these animals, the chapter takes pride in knowing their efforts have made a positive difference. Collaborating with the undergraduates and HSUS was instrumental and taught students the benefits of leveraging the strengths and connections of all resources available.
For more information about the University of Florida's Animal Legal Defense Fund Student Chapter, please contact Charles King at animallawassociation@gmail.com.
This spotlight was submitted by Charles King, president of the University of Florida (UF) Animal Law Association.
The following was published in the February 11, 2008 issue of FlaLaw Online:
UF Law Students Volunteer at Local Animal Sanctuary
UF law students recently gave back to the community by spending their Saturday volunteering at Rooterville, a local animal sanctuary. Located in nearby Archer, Rooterville is home to nearly 100 pot-bellied pigs, most of which carry a similar history of abandonment and neglect. The sanctuary has other animals too, including a former farm pig that ironically had the good fortune of falling off a truck on the way to slaughter and wandering into the yard of a compassionate family who called upon Rooterville for help.
Law students corralled animals for vaccinations, assisted with facility maintenance, and brushed the pigs, which, judging by their sounds and posture, was the animals' favorite student contribution.
Charles King, president of the Animal Law Association, says "in addition to the intrinsic rewards of volunteering, it was hard not to develop an increased awareness of the sentient characteristics these animals displayed. They showed us that
they can be playful, thankful, and even mischievous. In this era of animal commoditization, our existing laws should be evaluated to recognize this and provide minimum standards of humane protection."
Recent News
Miranda Groh is a 2022 recipient of the Animal Legal Defense Fund's Advancement in Animal Law Scholarship.

Emily Lane is a 2022 recipient of the Animal Legal Defense Fund's Advancement in Animal Law Scholarship.

Angela Pugliese is a 2022 recipient of the Animal Legal Defense Fund's Advancement in Animal Law Scholarship.