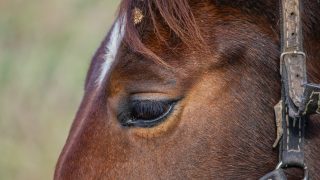 United States: End the Dangerous Transportation of Horses in Double-Deck Trailers
This action is for US residents only.
Horses are routinely transported in dangerous double-deck trailers — motor vehicles containing two or more levels stacked on top of one another. Cramped and sometimes unable to stand upright, horses endure long, painful journeys and may suffer serious injuries. The Horse Transportation Safety Act (H.R. 921) would prohibit the transportation of horses in double-deck trailers in interstate commerce.
Double-deck trailers are designed for smaller, shorter animals. Horses have long necks that make it difficult for them balance in moving vehicles with low ceilings. As horses struggle to gain balance, their movements can cause double-deck trailers to tip over causing fatal accidents for horses and humans.
Please take a few minutes to urge your U.S. Representative to protect horses and co-sponsor the Horse Transportation Safety Act.
Join the Animal Legal Defense Fund's email list to stay up to date on lawsuits, legislation, and regulations affecting animals.
Sign Up Now
Related
Animals rescued from backyard slaughter operation near Fort Meyers, Florida are now headed to sanctuaries.

Animal Legal Defense Fund and American Wild Horse Campaign continue work to ensure wild horses' safety

Reward for information leading to the arrest and conviction of the person or people responsible for the horses' deaths in Floyd County, Kentucky