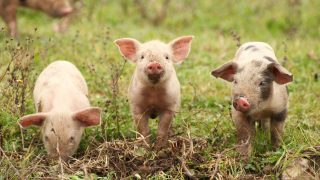 Tulane University Law School: Collaborating to Make a Difference
Tulane's Animal Legal Defense Fund Student Chapter members began their fall with an unexpected hurricane evacuation but returned to New Orleans within a week, with our homes and spirits fully intact.
Appropriately, our first event of the year featured Tom McPhee, who flew in from out of town for a screening of the documentary he produced and directed, An American Opera. An American Opera tells the story of Hurricane Katrina through the lens of animal rescue during the months after the storm hit New Orleans. Tom invited several people who were featured in the film to participate in a panel discussion following the film's screening. The result was fantastic. audience members jumped out of their seats to join the panel discussion, and topics ranged from pet rescue post-Katrina to clashing philosophies on how to raise companion animals.
Next, Tulane's Student Chapter volunteered to help Environmental Law Professor Oliver Houck with a research project. Tulane's Student Chapter members and friends spent a number of evenings observing and counting ducks as they migrated southwest, passing through New Orleans and crossing the Mississippi River at a point very close to some very large power lines.
We were pleased to discover that of the thousands of ducks that crossed the river over the course of several weeks, only one hit the power line (the duck was a bit dazed, but two other ducks helped him to find his way back to the flock).
We closed the fall semester with two speakers: Carter Dillard, Counsel to the Humane Society, and Ariel DiGiulio, Chair of the Animal Law Section of the Louisiana State Bar Association. Carter spoke about his work at the Humane Society of the United States and gave students practical advice on how to get involved with animal advocacy. Ariel spoke about the evolution of her interest in animal law, discussed the obstacles she faces now as an animal law practitioner, and shared advice on how to integrate animal law cases into an existing practice. Throughout the year, both Carter and Ariel have been a continuing source of information and inspiration.
With the spring semester came a series of collaborations, as our chapter reached out to students in other organizations and members of the New Orleans community.
Our first collaboration was with Alianza del Derecho, of the Latin American Law Students' Association, as part of the Student Bar Association's Human Rights Law Film Festival. Tulane's Animal Legal Defense Fund Student Chapter and Alianza del Derecho presented the film "Mississippi Chicken" and a speaker from the New Orleans Workers' Center, Arturo Xo Cuz.
Although animal issues were peripheral to this presentation, this collaboration fit in well with our overall mission to show that no area of the law is isolated from another. More specifically, we were able to demonstrate that human's desire for animal products in their diets has a direct, and often adverse, impact on other human beings. On a lighter note, we served vegan chicken nuggets at this event, which the mostly non-vegetarian attendees quickly devoured.
Next, we worked with the Environmental Law Society, who invited Tulane's Animal Legal Defense Fund Student Chapter to host a panel at its 14th Annual Environmental Law Summit. The panel focused on the effect of factory farming and meat-based diets on the environment and featured Gowri Koneswaran, Director of Animal Agricultural Impacts at the Humane Society of the United States, and Mike Tidwell, Founder and Director of the Chesapeake Climate Action Network, as well as author of the recent article "Low Carbon Diet."
The speakers' presentations were met with great enthusiasm and interest from the audience, which numbered over one hundred. Audience members, who were mostly environmental lawyers and activists, were mostly surprised to hear about the extremely adverse impact of animal agriculture on the environment and eagerly sought practical ways to make more conscientious decisions in their diets.
Tulane's Animal Legal Defense Fund Student Chapter closed the spring semester with two events: Animal Law Night, as part of Louisiana's Week for the Animals, and a CLE on Animal Law, presented in conjunction with the Louisiana State Bar Association's Animal Law Section. Both were well-attended and attracted people from around Louisiana. Animal Law Night focused on legislative changes post-Katrina to integrate animal rescue into Louisiana's plans for disaster relief.
The CLE, which was made possible through the support of an Animal Legal Defense Fund project grant, featured animal law practitioner Adam Karp as its keynote speaker and included additional presentations by local attorneys on pet trusts, impact litigation, and the state of the law in Louisiana.
As we break for the semester, we look forward to our summers and the year ahead. This summer, two of our members have secured animal law internships: Lindsey Topp, President and next year's Treasurer, will work in Cotati, California, at Animal Legal Defense Fund.
Rachel Mathews, 1L Representative and next year's Vice President, will work at Farm Sanctuary in New Orleans. Next year, we plan to bring in more great speakers and to continue to collaborate with organizations such as the Environmental Law Society and the Louisiana State Bar Association. Perhaps most significantly, we aim to establish a permanent animal law-related pro bono opportunity available to all Tulane Law students. For more information about Tulane's Animal Legal Defense Fund Studnet Chapter, please visit our website.
This spotlight was submitted by Kristen Schlemmer, vice president of the Tulane University Law School Animal Legal Defense Fund Student Chapter.
Recent News
Reward for information leading to the arrest and conviction of the person or people responsible for illegally shooting and killing a red wolf in Tyrrell County, North Carolina.

Animal Legal Defense Fund files motion for summary judgement with damning evidence against the university

Join Legislative Affairs Manager Jennifer Hauge for an update on our 2022 legislative work thus far, as well as ways you can directly impact the legislative process.