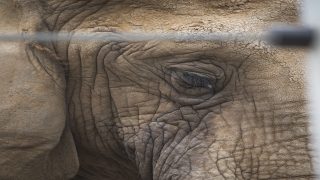 The Animal Legal Defense Fund Mourns Beulah and Karen and Fights for Change in Massachusetts
The Animal Legal Defense Fund is deeply saddened by the deaths of Beulah, an Asian elephant, at the age of 54, and Karen, an African elephant, who died earlier this year.
Beulah was exploited for decades by the Commerford Zoo, a Connecticut-based traveling circus. Born in the wild in Myanmar in 1967 and imported to the U.S., Beulah was sold to the Commerford Zoo before she was six years old. Similarly, Karen was born in the wild in 1981 and sold to the Commerford Zoo in 1984. She died in March of 2019 but her death was not revealed to the public until months later.
Beulah and Karen, along with an Asian elephant named Minnie, were used in their traveling show and petting zoo, along with a variety of other wild animals. Beulah spent this past weekend at the Big E in West Springfield, Massachusetts, where she was seen collapsing multiple times. Minnie continues to be exploited by the Commerford Zoo.
As the public grows increasingly aware of the cruelty inherent in forcing wild animals to perform in circuses and traveling shows, more states and cities are moving to restrict or prohibit their use. Already, six states and nearly 150 other localities in 37 states have passed various restrictions governing the use of wild animals in circuses and traveling shows—including nine Massachusetts municipalities: Braintree, Cambridge, Quincy, Pittsfield, Plymouth, Provincetown, Revere, Somerville, Topsfield, and Weymouth.
The Animal Legal Defense Fund is committed to supporting legislation pending in Massachusetts to prohibit the use of elephants and certain other wild animals used in circuses and traveling shows, An Act relative to the use of elephants, big cats, primates, and bears in traveling exhibits and shows (H.2934 and S.2028), filed by Representatives Lori Ehrlich and Bradley Jones as well as Senators Bruce Tarr and James Welch. We will continue to fight for other abused and exploited captive wild animals both in Massachusetts and across the United States.
Related
In a letter to the USDA, the Animal Legal Defense Fund and others explain the zoo has repeatedly violated standards of the Animal Welfare Act

Animal Legal Defense Fund letter asks Puerto Rico governor to investigate illegal treatment of endangered species and other animals at Dr. Juan A. Rivero National Zoological Park

Dr. Juan A. Rivero National Zoological Park has been illegally operating without federal license for more than a year.
Help animals win the legal protections they so desperately need and deserve, and ensure they have an advocate in courtrooms and legislatures across the country.
Take Action Now