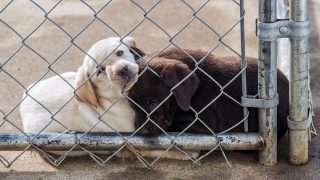 Texas: Tell the Sunset Commission to Keep Protections for Dogs in Puppy Mills
This action is for Texas residents only.
The Texas Sunset Commission is on the verge of rolling back critical legal protections for dogs in puppy mills. Your voice is needed to ensure this doesn't happen.
The 2011 Texas Dog & Cat Breeder Act empowered the Texas Department of Licensing and Regulation to regulate conditions in large-scale dog and cat breeding facilities. But now the Sunset Commission, which makes recommendations to the legislature about agencies, has concluded that the program is no longer necessary.
Thousands of Texans asked for this law nearly a decade ago, and it has been essential to protecting dogs, cats, and families across the state. Please take a few minutes today to send a message telling the Sunset Commission that you support regulating commercial dog breeding facilities.
Follow these steps to submit a comment:
Under "Your Comments About the Staff Report, Including Recommendations Supported or Opposed," you can use the below statement:

Please do not roll back protections for dogs in puppy mills and dismantle the Licensed Breeder Program. Dogs in puppy mills need our protection.

Under "Any Alternative or New Recommendations on This Agency," you can use the below statement:

Instead of dismantling the Program, the legislature should instead strengthen it to better protect animals and families considering purchasing a puppy. Specifically, the requirement that only breeders selling 20 or more puppies and kittens be licensed should be removed because most sales are untracked cash transactions—making it near impossible to determine how many animals a breeder sells. Second, currently only breeders with 11 or more adult, intact female animals must be licensed. That number should be lowered to five (in line with the U.S. Department of Agriculture's requirement) to ensure all large-scale breeding facilities are being properly regulated.

Thank you for speaking up for dogs in puppy mills!
Puppy mill operators maximize their profits by producing large numbers of puppies as quickly as possible. As a result, unsanitary conditions, disease, and neglect are rampant. Sign our pledge to boycott puppy mills. Together we can end cruel puppy mills.
Sign Petition
Related
As the Animal Legal Defense Fund combats dogfighting by working with state officials to create stronger laws and more effective penalties for those who engage in this crime, we're also hard at work to ensure the best possible outcomes for dogfighting victims.

The Animal Legal Defense Fund, the nation's preeminent legal advocacy organization for animals, and Humane Rescue Alliance (HRA) are offering a $10,000 reward for information leading to the arrest and conviction of the person or people responsible for the abandonment and stabbing of a senior-aged dog named Ladybell on July 12, 2020.

Today the Animal Legal Defense Fund announced a settlement agreement with the West Virginia State Police, State Trooper Seth Cook, and Colonel C.R. "Jay" Smithers, in a lawsuit filed after Tiffanie Hupp intervened when Officer Cook drew his gun and aimed it at the family dog, Buddy.