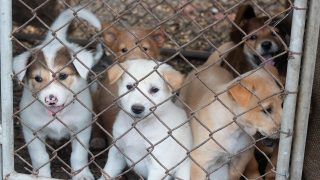 Relating to the licensing and regulation of dog and cat breeders (Texas)
H.B. 2238/S.B. 876
This bill would amend the licensing requirements for dog and cat breeders in Texas.

Companion Animals
The Animal Legal Defense Fund supports this bill.
Sponsors: State Sens. Pete Flores (R-24) and John Whitmire (D-15); State Rep. Brad Buckley (R-54)
Introduced: February 13, 2023
Currently, Texas state law defines a dog or cat breeder as someone who possesses 11 or more adult unspayed females and sells 20 or more puppies or kittens in a calendar year. But 10 adult female dogs can give birth to up to 120 puppies per year. Additionally, many of the sales are cash transactions and therefore untraceable. This allows many large-scale breeding operations to operate without proper regulation or oversight.
This bill, H.B. 2238/S.B. 876, would:
require dog or cat breeders who have five or more adult unspayed females to obtain a license to operate under the Occupations Code in Texas.
remove a provision from the current law that places a minimum on the number of animals an individual must sell per year in order to be considered a dog or cat breeder.
Why is this legislation important? The bill would close loopholes that currently allow large-scale commercial dog and cat breeding operations to function outside of a system designed to prevent cruelty. The bill would also bring the requirements closer to similar federal regulations of breeders under the Animal Welfare Act.
Coalition support: Texas Humane Legislation Network