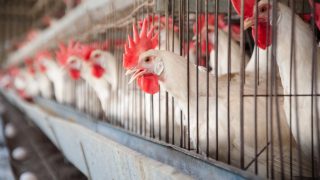 Ag-Gag (Texas)
Creates an Ag-Gag Law in Texas (HB 1480/SB 472)
HB 1480/SB 472 would create an Ag-Gag law in Texas — preventing the public from learning about animal cruelty.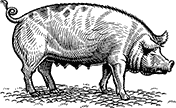 Farmed Animals
Status
The Animal Legal Defense Fund opposed language in this bill.
HB 1480/ SB 472 would have created an Ag-Gag law in Texas — preventing the public from learning about animal cruelty. These bills could have deterred whistleblowers and undermined the reporting of animal cruelty and other violations on factory farms and slaughterhouses.
Undercover investigations have revealed severe animal abuse on factory farms — animals beaten, maimed, and mutilated. The ability to investigate, document, and publicize corporate agriculture's abuses is not only critical to protecting the well-being of animals but also human health and safety. Factory farming is already responsible for numerous zoonotic disease outbreaks including 1997 Bird Flu (H5N1) and the 2009 Swine Flu (H1N1). It's essential that health and safety violations are promptly uncovered and addressed.
Ag-Gag laws also endanger workers. Even pre-pandemic, working in a slaughterhouse was one of the most dangerous jobs in the United States. The COVID-19 pandemic has compounded the dangers of working in slaughterhouses and meatpacking plants. These facilities are hotspots for COVID-19 outbreaks due to unsanitary and cramped working conditions, with hundreds of facilities across the country reporting COVID-19 cases. Ag-Gag laws discourage whistleblowing regarding worker safety issues, as well.
The bills were authored by Representative John Cyrier (R-17) and Senator Lois W. Kolkhorst (R-18).
Fortunately, the content of HB 1480 was substituted with amended SB 472 language which removed the ag gag portion of the bill that could have criminalized employment-based undercover investigations. While HB 1480 started out as an ag gag bill and passed the Legislature and was subsequently signed into law by the Governor on June 18, its language is now neutral from an ag gag perspective. Our active involvement with a broad coalition of groups to achieve this success also depended, in large part, on the advocacy of our thousands of Texas supporters.
Learn more about Ag-Gag laws.
Join the Animal Legal Defense Fund's email list to stay up to date on lawsuits, legislation, and regulations affecting animals.
Sign Up Now