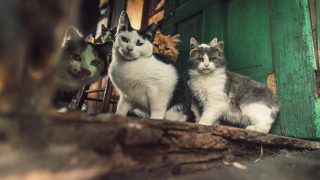 Animal Possession Ban (Texas)
Community supervision for defendants convicted of certain criminal offenses involving animals (SB 48 and HB 91)
SB 48 and HB 91 empower judges to prohibit people convicted of animal cruelty from future contact with animals.

Companion Animals
Status
SB 48 was signed into law by Governor Abbott on June 14, 2021. This means as of September 1, 2021, all judges in Texas will be statutorily aware of their ability to include possession bans and psychological counseling in their sentencing schemes for animal cruelty crimes, beyond just bestiality which was where the law began in 2017. This legislation is an important step forward in improving animal law potentially reducing further animal and human violence in the Lone Star State.
Possession bans keep people convicted of egregious animal abuse crimes away from animals – protecting animals from being similarly victimized in the future. Considering the rate of recidivism for certain types of animal abuse – such as animal hoarding – is close to 100%, possession bans are critical to keeping animals safe.
SB 48, sponsored by Senator Judith Zaffirini (D-21), and HB 91, sponsored by Representative Eddie Lucio III (D-38), allow judges to prohibit people convicted of serious animal cruelty crimes from possessing or exercising control over any animal, as well as living in a household where animals are present.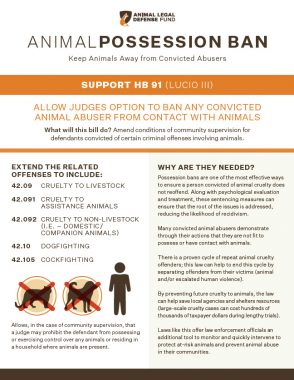 Additionally, the judge may require defendants to participate in psychological counseling or another appropriate treatment program. These sentencing measures help end the cycle of cruelty permanently, allowing abusers to get the treatment they need.
Further, possession bans can help save limited community resources considering large-scale cruelty cases (such as puppy mills, hoarding, and dog fighting operations) can cost hundreds of thousands of taxpayer dollars during lengthy trials. It also offers law enforcement officials an additional tool to monitor and quickly intervene to protect at-risk animals and prevent animal abuse in their communities.
Recognizing the strong link between animal cruelty and violence against humans, more and more states have recently taken steps to protect both humans and animals by enacting possession bans. As of 2020, 38 states have similar laws empowering judges to prohibit convicted animal abusers from possessing animals. Four states created or strengthened their bans in 2020.
Since 1979, the Animal Legal Defense Fund has led the charge to win animals the legal protection they so desperately need—and deserve. Your generous gift will assure that we can continue to take on cases that advance the interests of animals.
Donate Now