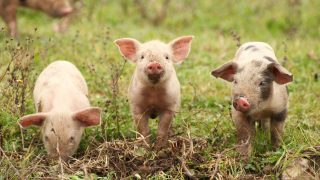 Southern Methodist University Lunching and Learning Ways to Make Animal Law a Career
During the 2009 fall semester, concerned students at Southern Methodist University (SMU) Dedman School of Law decided to organize an Animal Legal Defense Fund Student Chapter. Although SMU, located in Dallas, Texas, has active environmental law and public interest law groups, there were no organizations on campus to advocate for animals.
SMU's Animal Legal Defense Fund Student Chapter formation coincided with the exciting addition of the first-ever animal law class to be offered at SMU. It was the perfect time to bring the organization to the school since students were becoming aware of animal legal issues through the class.
In order to promote SMU's Student Chapter and make its presence known on campus, members held a tabling event to gather signatures for Animal Legal Defense Fund's Animal Bill of Rights, a petition to the United States Congress for stronger animal protection laws.
Armed with some Animal Legal Defense Fund temporary tattoos, bookmarks, posters, and dog bowls filled with candy, members took turns working the brightly decorated table in the law library commons area. Many curious students and professors stopped by the table with a little coaxing and candy, both of which proved effective. Members discussed the necessity of stronger animal protection laws as well as what the newest group on campus had in store for SMU.
While some were hesitant to sign, no one walked away empty-handed. Visitors all took Animal Bill of Rights literature and a few treats. By the end of the day, nearly all of the signature sheets were filled and SMU's Animal Legal Defense Fund Student Chapter had a couple of new recruits, a great success for our first public event!
Later in the spring, SMU's Student Chapter hosted its first annual vegetarian career lunch. Yolanda Eisenstein, an SMU professor and Dallas attorney who specializes in animal law, spoke about creative tactics students could use to include animal law in their careers. Professor Eisenstein encouraged attendees interested in animal legal issues to, "Create the job you want. Since animal law is new, you can create the job, you can become the expert, and you can own that category."
Eisenstein suggested, when interviewing with a firm, you should go in with a plan to demonstrate how taking animal cases can be profitable and how your knowledge of the specialization can be of value. Firms that have environmental law, intellectual property, and estate planning practices could benefit from an attorney who has special knowledge of legal issues related to animals. A job candidate who can demonstrate why animal law is significant in modern legal practice has a marketable edge on interviewees who are not aware of the versatility and increasing relevance of animal law.
Luncheon attendees learned multiple ways to include animal law in a legal practice. Deceptive Trade Practices Act (DTPA) cases in instances of breeder disputes and product liabilities with pet toy manufacturers are two examples of conflicts which award attorney's fees.
Further, as animal cruelty cases gain more coverage in the news, prosecution of animal abusers is an expanding specialization. Students should also consider the representation of different groups such as fish and wildlife organizations, veterinary associations, and medical and research associations. Job searchers can also seek out animal law opportunities in agribusiness, with insurance providers, and in farming industries. Alternatively, for those interested in politics, there is a great need for lobbyists for animal welfare groups.
Participants were encouraged to seek out unique opportunities with the assurance that a demonstrated interest in animal law is a specialty applicants can offer to employers as well as a means to make a passion for animal welfare a viable career.
This summer, the SMU Animal Legal Defense Fund Student Chapter officers have been planning events for the upcoming school year. Fundraising for local shelters, more tabling events, movie screenings, and trips to animal law events are just some of the things planned. Our hope is to not only increase membership but also to encourage other students to become passionate about animal welfare issues.
This spotlight was submitted by Melissa Oosterhof, president of the Student Animal Legal Defense Fund chapter at Southern Methodist University Dedman School of Law.
Recent News
Petition urges recordkeeping of all deaths and reporting to the agency every three years from Animal Welfare Act licensees

Following the dismissal of Justice's case upheld on appeal, the Animal Legal Defense Fund continues to seek accountability under the law.

The Animal Legal Defense Fund is looking for individuals who have visited either the East Texas Zoo & Gator Park or the Franklin Drive Thru Safari. If you are willing to speak to us about your…