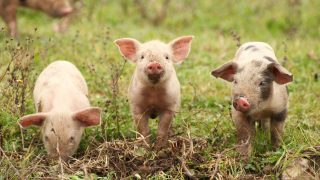 Student Chapters Go to Gentle Barn
Gentle Barn provides safe haven and rehabilitation for animal victims of severe abuse and neglect. The sanctuary also emphasizes humane education by holding tours for children, including those in the foster care system and at-risk and special-needs youth, that promote "kindness, compassion, and empathy for all living beings." Most of the 160 animals at Gentle Barn are farmed animals, who suffer obscene abuse when raised for meat, milk, or eggs.
As the Los Angeles Regional Animal Legal Defense Fund Student Chapter Representative, I hosted an Animal Legal Defense Fund Student Chapter Mixer at Gentle Barn for Southern California Animal Legal Defense Fund Student Chapter members to meet and mingle. Around 30 law students from UC Irvine School of Law, Whittier Law School, Loyola Law School, and Chapman University School of Law, and our loved ones, traveled to Gentle Barn's oasis in Santa Clarita. Because Animal Legal Defense Fund generously funded the event in full, we had the entire sanctuary to ourselves.
The animals—cows, horses, donkeys, pigs, turkeys, chickens, goats, llamas, and more—welcomed us warmly into their home. We met Buttercup, a cow who suffered extreme neglect in the dairy industry before she was rescued by Gentle Barn. She was heavily pregnant at the time, and because she had been so malnourished, her calf was born with underdeveloped lungs and did not survive.
Buttercup mourned his passing for a long time, but eventually became a surrogate mother to the orphaned animals at Gentle Barn. She sweetly gave us kisses like a dog, and her tongue felt prickly like a giant cat tongue (which surprised us all!).
We also met Faith, the daughter of another dairy cow. She was taken away from her mother at one day old–so the milk her mother made for her could be taken for human use–and shoved into a veal crate, which was so narrow she could not even turn around. While at the veal farm, she developed conjunctivitis and ultimately went blind. When the Gentle Barn rescued her, she could not walk properly due to her intensive confinement. With patience and dedication, Faith not only learned how to walk properly, but to run, play, and cuddle.
My personal favorite was Claire, a turkey who was rescued from a farm right before Thanksgiving. Because she endured unspeakable abuse and neglect at the farm, she was scared when she first arrived at Gentle Barn. However, she has since blossomed into a loving and social turkey who enjoys cuddling and belly rubs. She even coos with pleasure when you scratch her belly!
Although the day was wonderful, it was also immensely painful for us to hear the animals' stories of abuse. Worse, oftentimes this abuse is not even illegal because farmed animals are virtually unprotected by the law. But at Gentle Barn, they were not treated as objects but as individuals. They are as important as any family cat or dog.
The animals helped us that day, the compassion-fatigued and law school-fatigued. They help countless other visitors see animals as individual beings with inherent worth. We won't forget them.
This student chapter spotlight was submitted by Elizabeth Tissot, Los Angeles Regional Animal Legal Defense Fund Student Chapter Representative and president of the UC Irvine Animal Legal Defense Fund Student chapter.
Recent News
Test Email If you are human, leave this field blank. Submit

Reward for information leading to the arrest and conviction of the person or people responsible for illegally shooting and killing a red wolf in Tyrrell County, North Carolina.

Animal Legal Defense Fund files motion for summary judgement with damning evidence against the university