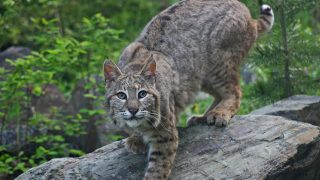 Recap: California Humane Lobby Day 2019
On Tuesday, June 4th, the Animal Legal Defense Fund and The Humane Society of the United States hosted their first joint California Humane Lobby Day. Nearly 100 animal advocates gathered in Sacramento to lobby state legislators on five animal protection bills.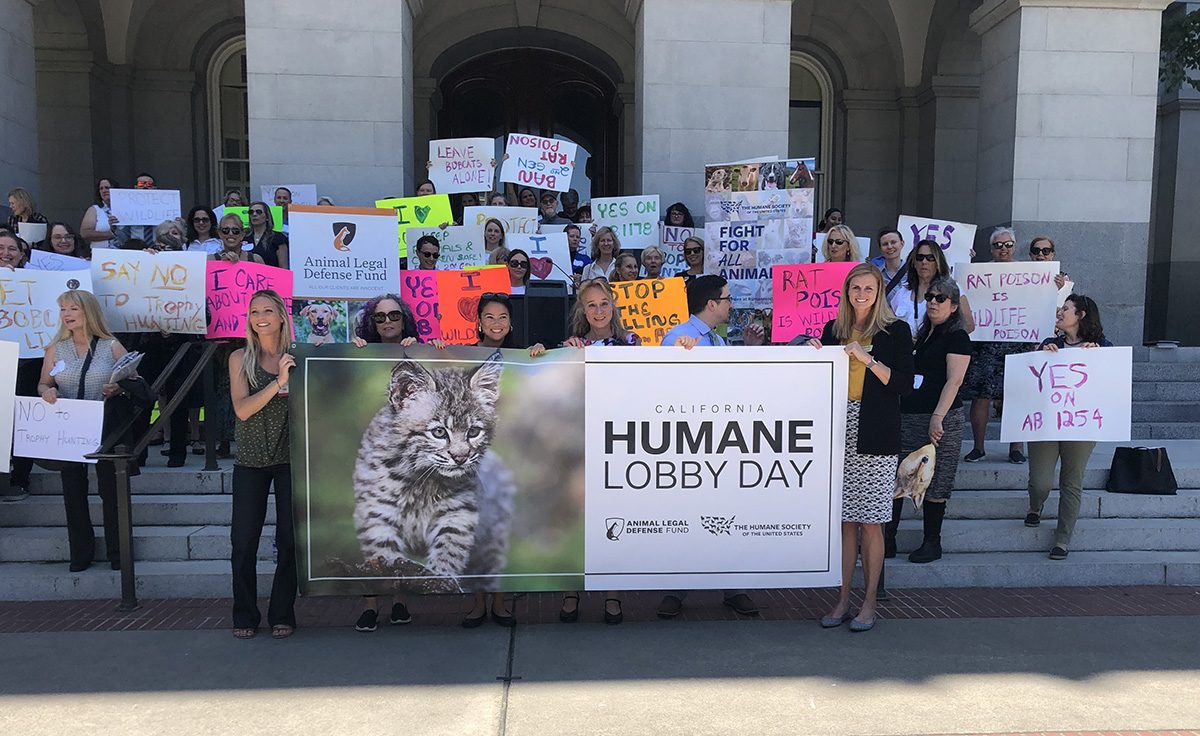 Humane Lobby Days are events where advocates come together from across the state to learn the basics of lobbying for animals and then put their new skills into practice. In the morning, attendees study the key animal protection bills that the state legislature is considering and receives tips on effective lobbying. In the afternoon, advocates meet with their state legislators to discuss the bills and ask for their support.
Animal Legal Defense Fund Legislative Affairs Director Kim Kelly, The Humane Society of the United States Outreach Manager, Faith Outreach, Deanne Thomsen, and The Humane Society of the United States Nevada State Director Jeff Dixon
This year's event was held in the historic Westminster Presbyterian Church, steps away from the California State Capitol.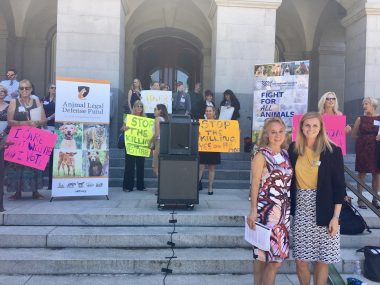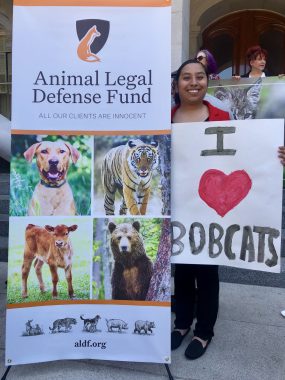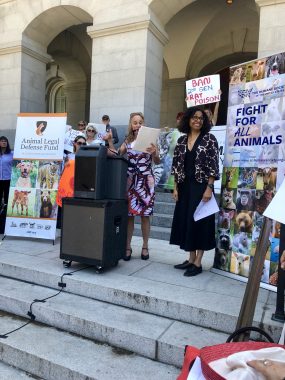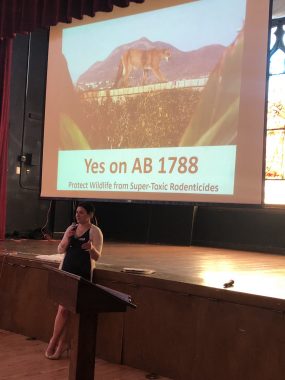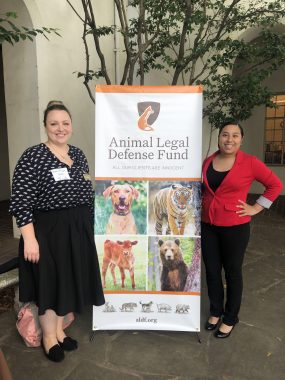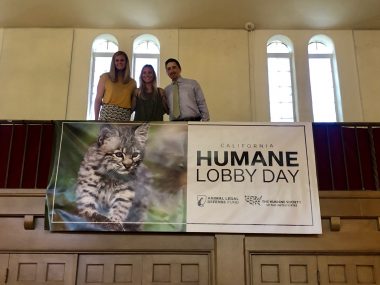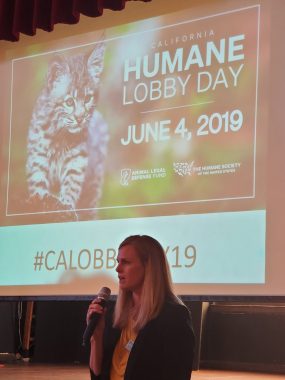 Advocates assembled at 9:00 AM to learn about the priority legislation that the Animal Legal Defense Fund and The Humane Society of the United States are working to advance. Staff members and experts spoke about five bills:
AB 1788, the California Ecosystems Protection Act: Authored by Assemblymember Richard Bloom, AB 1788 bans the use of second generation anticoagulant rodenticides throughout the state, except for agricultural use or by special permit, as well as the use of first generation anticoagulant rodenticides on state land.
SB 580, the Animal Cruelty and Violence Intervention Act of 2019: Authored by Senator Scott Wilk, SB 580 addresses the link between violence against humans and animal cruelty by requiring people convicted of serious animal abuse crimes to undergo a mandatory mental health evaluation and possibly ongoing treatment. People convicted of less serious crimes may be ordered to enroll in humane education courses.
AB 1254: Authored by Assemblymember Sydney Kamlager-Dove, AB 1254 places a moratorium on the trophy hunting of bobcats in California.
AB 44, the Fur Products Prohibition Act: Authored by Assemblymember Laura Friedman, AB 44 would make it unlawful to sell, give, or manufacture a new fur product in the state.
AB 611: Authored by Assemblymember Adrin Nazarian, AB 611 strengthens California's animal sexual abuse laws by expanding the definition of sexual assault, preventing offenders from possessing animals, and requiring veterinarians to report signs of animal sexual abuse to law enforcement.
Next, attendees prepared for their afternoon meetings with legislators by getting tips on lobbying. After a quick lunch, advocates walked to the Capitol building to rally for two critical wildlife protection bills: AB 1788 and AB 1254.
A special thank you to Assemblymember Kamlager-Dove who spoke about her bill, AB 1254, which would end the trophy hunting of bobcats.
Following the rally, advocates headed to the halls of the Capitol to speak to their assemblymembers and senators about the priority bills.
Thank you to all of the advocates who traveled from across the state to attend this year's event. If you're interested in advocating for animals in your own community, read Working with Legislators to learn the basics of lobbying for pro-animal legislation.
Related
In the wake of the COVID-19 pandemic and mounting criticism of the dog meat trade from Chinese citizens, the national government of China has issued draft guidelines to reclassify dogs from "livestock" to "companion animals."

In the U.S., some municipalities are grappling with whether pigs kept as companions should be allowed in residential areas that exclude animals legally defined as "livestock."

'Tiger King' could have been a change agent. Despite the impetus of the 5-year project — finding a big cat in someone's white van in the heat of summer — a deliberate choice was made not to focus on the tigers at all. Their story remains untold.