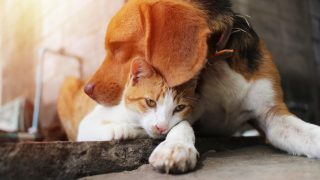 California Senator Wilk Introduces Landmark Animal Cruelty and Violence Prevention Legislation
Senate Bill 580 Promotes Rehabilitative Measures to Curb Future Violence to Animals and Humans
Contact: media@aldf.org
Sacramento, CA – California Senator Scott Wilk, representing the 21st Senate District, is joining the Animal Legal Defense Fund, the nation's preeminent legal advocacy organization for animals, in calling for common-sense legislation to address the link between animal abuse and violence towards humans.
On Friday, Senator Wilk introduced Senate Bill 580 (SB 580), the Animal Cruelty and Violence Intervention Act of 2019, to give judges tools to help rehabilitate those convicted of animal abuse, thus preventing the escalation of dangerous behavior among offenders who hurt animals.
People who hurt animals don't stop with animals. There is an established link between cruelty to animals and violence toward humans — regularly referred to as "The Link." This link makes it critically important that cruelty toward animals be taken seriously by law enforcement, and by society at large. This is for the sake of the animals themselves, and for people who are also at risk.
"Animal abuse crimes should be treated seriously because they are serious," said Wilk, himself the parent of a rescue dog. "Our animal friends need and deserve our protection, but this bill isn't just about them. It's also about our mothers and daughters, our friends and neighbors, our children and grandchildren; it's about all of us."
Wilk went on to cite statistics that show roughly three-fourths of domestic violence offenders also abused animals at some point. A study of federal prisons also found that 70 percent of the most violent prisoners had histories of serious animal abuse.
"There's no denying the existence of a problem and it has become ever more apparent that our current mechanisms for identifying and addressing these offenders is neither restorative, nor rehabilitative in any meaningful way," said Wilk. The bill will require offenders convicted of egregious animal abuse crimes to undergo mental health assessments and, if deemed beneficial by the assessing mental health professional and the court, to seek treatment.
The bill also permits judges to order offenders of less serious crimes to enroll in humane education courses that provide proper techniques for interacting with animals in a positive way.
"Californians want effective animal cruelty laws that stop the cycle of violence," said Animal Legal Defense Fund Executive Director Stephen Wells, sponsor of the legislation. "This bill addresses the underlying causes of animal abuse by ensuring that people convicted of crimes against animals receive the proper rehabilitative treatment – whether counseling or education – to prevent more animals, and humans, from future harm."
Since 1979, the Animal Legal Defense Fund has led the charge to win animals the legal protection they so desperately need—and deserve. Your generous gift will assure that we can continue to take on cases that advance the interests of animals.
Donate Now
Join the Animal Legal Defense Fund's email list to stay up to date on lawsuits, legislation, and regulations affecting animals.
Sign Up Now
Related
The Los Angeles Superior Court has granted a preliminary injunction that halts the Kenneys, unscrupulous internet puppy sellers, from advertising and selling puppies until the lawsuit is decided on the merits.

Animal Legal Defense Fund challenges the renewed license for the owner of Wildlife on Wheels after evidence has revealed ongoing violations for more than a decade

A Courtroom Animal Advocate Program (CAAP) bill, S.2868/A.4533, which would allow law students and volunteer lawyers to advocate for animal victims in cruelty criminal cases, unanimously passed the New Jersey Senate. The bill is sponsored by Senator Nicholas Scutari and Assemblyman Raj Mukherji and endorsed by the Animal Legal Defense Fund.